On our second day, we wandered into a small alleyway in Insadong that was lined with restaurants, in search of some traditional authentic Korean food. But I didn't want bulgogi, bibimbap or kimchi-chigae - any ol' Korean food that I could find in Singapore.
I wanted ssam-thing more special.
What about that? I asked my sister, pointing to the restaurant's menu.
Ok, she replied.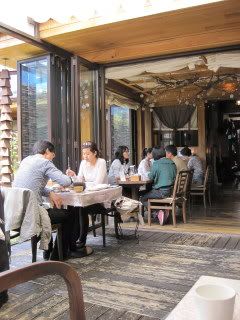 Stepping into the restaurant, we were initially worried as it was decorated in a faux-cottage modern style but the place soon quickly filled up locals and we applauded ourselves for making the right choice.
And with that the restaurant went from "tourist trap" to "charming and cosy".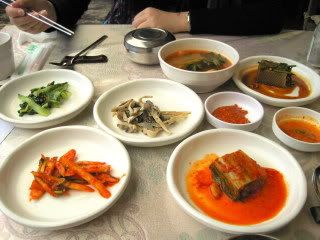 Before our meal was served, like most Korean meals, we were given a bevy of side dishes (banchan). This is one of the many things I love ( <3 heart) about Korean food - peckable, graze-worthy appetizers that appease the epi-philanderer in me.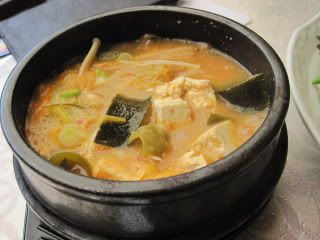 Turns out my sister thought I was referring to the sundubu-jjigae (soft beancurd stew) but I was actually looking to the triple-layered fatty pork, also known as bo ssam. Luckily our set for two came with both sundubu-jjigae and bo ssam.
The sundubu-jjigae (soft beancurd stew), like most stews, was delivered to bulbbling hot. Inside, my goldfish memory bank remembers seeing some soft bean curd, egg and vegetables.
Ssam like it Fatty.
The bo ssam is essentially steamed pork and while that may not sound the most delicious dish on earth, the pictures prove otherwise, no?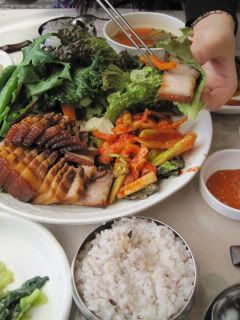 To eat it the traditional way: Grab a piece of lettuce, layer it with some pork and marinated pickles-salad, wrap it and scarf it down in a single mouthful.
To eat it Yixiao's way: Focus on the pork and intermittently pick on the marinated pickles-salad. I'm not being rude, I just don't like the taste of raw vegetables interfering with the taste of meat.
Korean Cuisine Restaurant
Insadong, Seoul