Sometimes I feel like such a drama queen. But rest assured I'm really not like that in real life. Promise.
But if I wrote a own musical about my Seoul trip, it would be called 'A Street Cart Named Desire'.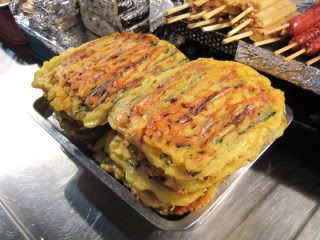 For 3 nights in a row, my sister and I had street food for dinner. Did we plan to do so? I don't think we did but then again, we didn't plan anything for dinner and we were quite happy to chance upon street cart after street cart.
Seafood Pancake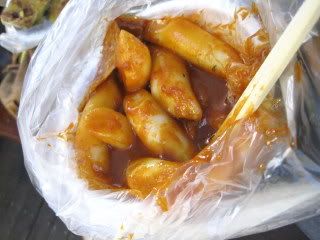 Tteokbokki Takeaway
These street carts typically come armed with an odeng stove, cauldron for double-deep-frying tempura and tteokbokki-only section. Ingenious, I say.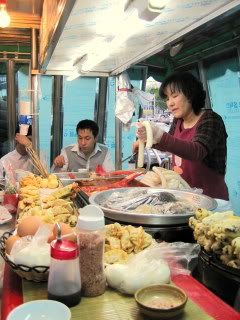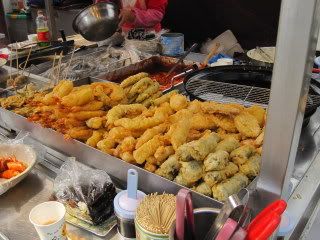 What naturally caught my attention was the array of deep-fried unrecognizables (oh cares?! It's deep-fried), mainly made out of fishcakey-shrimpy stuff. Whatever you point to gets thrown into the cauldron of scathing oil like naughty children in Brothers' Grimm fairy tales.
But wait, it gets better.
The fried lovelies get doused with spicy tteokbokki, stir-fried rice cakes that have been simmered and bubbling for god-knows-how-long.
I love this. Totally heart it. So much so that on our last day, I was almost tempted to miss our flight because I haven't had my fix of rice cakes.
I know we have a Korean street food stall in Takashimaya basement but this is different! You can't replica the experience of standing by the road, maneuvering those spinely toothpicks across rice cakes and tempura, tucking in with the fervor of hungry-hungry-hippos and not giving a damn to who's looking.
So sad I had to leave you behind.