On our last day, my sister and I covered the Apujeong / Sinsa-dong / Garousu-gil area. We did brunch at Gramercy Kitchen, which was recommended to us by my sister's favourite traveling mate - The Luxe Guide.
Launched by The Westin Chosun, it was a stylish restaurant decked out in modern sleek décor, soothed out with white orchids. I thought the place was more suited for corporate lunches or fine dining as it was too clinical and cold for brunch – but perfect for corporate accounts.
Case in point: The heavy curtains blocked out all traces of sunlight and you must be thinking, "Yay for you, no?" Well no, I like sunlight. I like looking at it. I just don't want to be under it.
Heliophobia aside, we had eggs, pancakes and toast – all spruced up with a pinch of Luxe.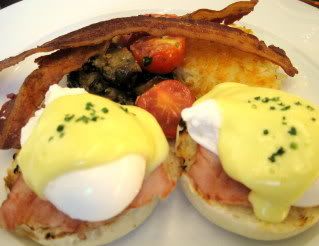 2009 would be remembered as the year I thought I fell in love with eggs benedict. I like the idea of disturbing the yolk, pricking it till it gushes over the ham and English muffin … the taste of runny yolk doesn't bode well with me. Obviously as soon as I'm done poking, I have to scrap the runny yolk aside so that it doesn't soak through the ham and muffin.
Anyhow, yolk or yuck, I like Gramercy's rendition of the classic eggs benedict with smoked ham and hollandaise sauce. Even the gently grilled mushrooms and tomatoes on the side were memorable.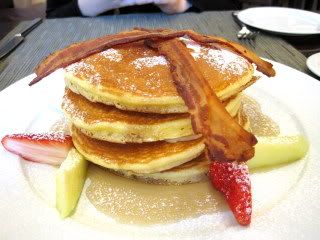 The stack of buttermilk pancakes was delicious too. A couple of crisp bacons slices criss-crossed on the pancakes, marking its territory: XOXO, Pancakes.
I rarely having anything savoury with my pancakes, which kinda makes me think,
why not?
It would even be my suggestion for a Ben & Jerry's flavour –
A Haute Breakfast
, pancake ice cream with maple syrup and bacon bits. You read it here first.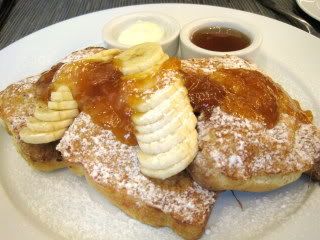 Probably the only dish I didn't go bananas over was the French toast.
One would have thought French toast would be one of the easiest things to make and one of the hardest to screw up. So, what went wrong? Probably the wrong bread on the wrong plate at the wrong time. The kitchen used some indiscernible bread that was incapable of soaking up the eggy milkwash. Stale and heavy, even the icing sugar and maple syrup failed to pick things up. How sad.
I would have liked Gramercy Kitchen more if it were in Singapore, where I wouldn't be lured by those friggin' delicious sticky rice cakes.
Gramercy Kitchen
Shinsadong MJ Building