It was a last minute lunch catch-up and I was keen to check out the Keong Saik area. Luckily this spontaneous arrangement earned me a surprisingly pleasant lunch.
Surprising for 2 reasons:
1. I wasn't expecting anything fanciful but unfanciful grub does have a way of stealing my heart
2. Pork snagged the starring role which doesn't happen very often. Not at all.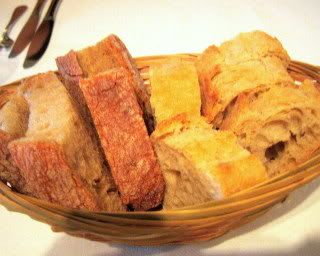 The basket of (unwarmed) rustic airy bread wasn't the finest I've had but I was starving so it was delicious.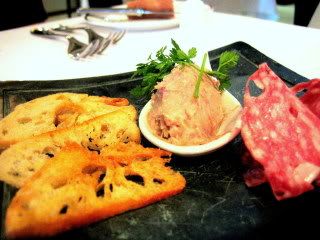 The amuse bouche of goose rilette, ham (name unknown) and crostini were great. The goose rillette had been reduced to a smooth mash and was heavily flavoured.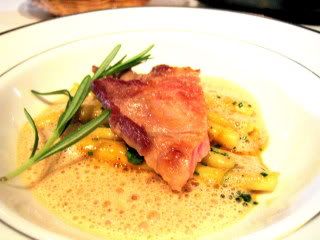 For starters, I had my first pork dish – roasted kurobuta pork shoulder and strozzapreti pasta. The tenderness of the lean roasted kurobuta shoulder was marked by an inner blush; it arrived on a raft of strozzapreti pasta, spear-like spiral pasta that aimed straight for my heart.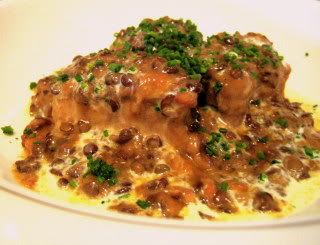 Going by
my meat hierarchy
, I should have gone for Five Hours Braised Cheek since I have never been one to proclaim, "Pork for President". On any given day, my subconscious would have whispered, "Beef cheek ooo braised ooo five friggin hours..."
What goes inside my mind isn't a pretty picture… well neither is the petit sale aux lentilles pork but it was so good.
Ditching the predictability of beef cheeks, I went for the slow cooked belly stew.
Beef cheeks who?
The pork belly stew seemed like the epitome of rustic French cooking, with flavours that evoked images of the French countryside and villages. I know it sounds too much like an out of body experience.. Haha. I really liked how the lentils below were slightly softened without loosing their bite.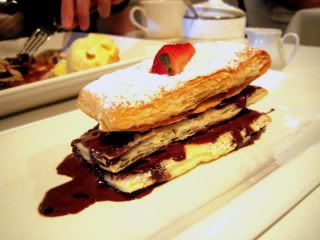 Desserts-wise, the chocolate millefeuille was the only dish I found a little 'meh'. It was missing something. The chocolate definitely didn't register as Varlhona quality and the puff pastry looked like it was leaking chocolate. Leaking, not tearing – tearing would have been beautiful and poetic, leaking is just unseemly.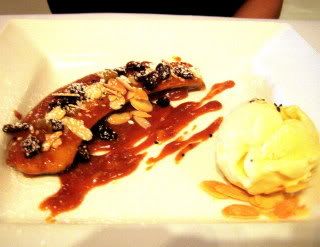 Luckily the caramelized banana with vanilla ice cream whispered, 'Everything's going to be alright'. The caramel made good its promise to delight and the tossful of raisins and almond slivers lifted its potential heaviness. You just can't go wrong with good ol' fashioned vanilla ice cream and bananas. Yay.
Les Artistes Bistrot by Nicolas
35 Keong Saik Road
Singapore 089142
Tel: +65 62241501
Fax: +65 62229123
Email: contact@artistesbistrot.com