Diana made it back to our red dot for the long Easter weekend and we hopped onto an even tinier island for our catch-up diner.
The words "swanky," "Beppe de Vito" and even "sunset view" did nothing for me. They did pique some interest but not to the extend where I would rush over to Sentosa. As irony would have it, it was the lack of words - "1-For-1" - that drew me over the bridge.
Thanks to the extremely-rare-credit-card-promotion-that-I-pay-attention-to, both of us had the 4-course Gourmet Set Menu. Shortly after our orders were placed, a coral bowl of crostinis appeared in front of us bona fide bread whores.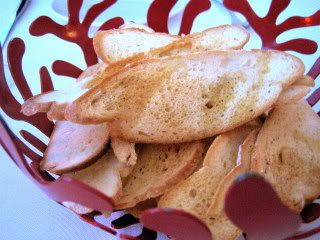 "Ooo these are great… they are like bread chips! Great they won't fill us up like bread rolls… "
DAH! WRONG!
without warning, these deceivably-thin crostinis settled down uneasily in our tummies and our waiter brought us another bowl as soon as he noticed the empty one.
Scaloppa di Fegato Grasso con Sedano Rapa, Mele Renette e Porto Caramellato
Apart from passing time, the crostinis were great with our started, panroasted goose liver, served with a slice of poached "Renette" apple and celeriac cream.
Buttery foie gras is a great way to start the LONG Easter weekend... or any meal or holiday for that matter.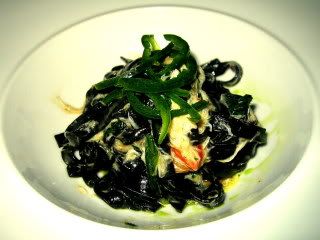 Fettuccine al Nero con Granchio, Peperoncino e Olio alla Menta
I liked the squidink fettuccine tossed with crab chunks and sinewy bits. The squid and crab won the 18-legged race with its subtle but well-noted aroma. The peppermint oil hardly registered but on second thoughts, that might be a good thing as it would have just tasted sprightly odd.
Merluzzo Arrostito con Pure' di Patate al Timo Limonato e Salsa al Prezzemolo
The Atlantic cod with mashed thyme potatoes skimmed the surface for average. Admittedly it had a tough act to follow after the foie gras and crab squidink fettucine, and a just-decent noticeably-unoily white fish just didn't cut it.
Perhaps I should have gone for the Prime Beef Striploin instead.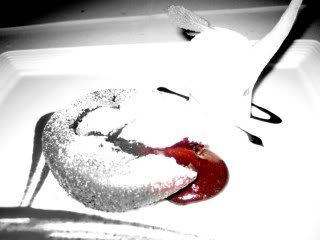 Fondente di Cioccolato con Gelato al Cocco
Behold one of the worst food pictures of all times!
Although the molten chocolate cake is a done-to-death dessert, a rich decadent version never fails to delight me. Evidently it was a light cake as the chocolate burst out of its seams before it reached Final Destination – and into the dark abyss of my tummy.
The bittersweet treat came with a not-done-to-death and delicious coconut ice cream that made of think of coconuts and hula skirts. Go figure.
il Lido
Sentosa Island, Sentosa Golf Club
27 Bukit Manis Road
Tel: 6866 1977