Hello folks over at Riders Cafe,
What a charming place you have! Much of the smallish menu sounded delicious but it was such a pity you only served breakfast till 2pm. Luckily we scored ourselves some leftover Morning Pancakes from the table next to us.
Leftovers!? What wouldn't this girl do for free (albeit delicous) food?
Relax dear reader, our neighbours didn't throw us scraps. They weren't strangers to begin with - a few friends of mine were wrapping up brunch just as Zee and I arrived.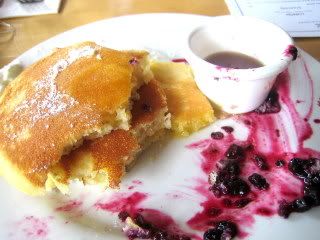 It might have been hand-me-
downs
sideways but they were delicious hand-me-sideways. Pancakes in their finest form, served with tangy berries compote, lucious whipped cream and dunkable maple syrup.
It occurred to me that it doesn't matter which side of the bed one woke up on because Morning Pancakes are an indelible source of happiness.
But who you wake up next to is another story altogether…
I snuck a bite out of the eggs florentine too. Delicious. The next time I see you, I'm not going to let you out of my sight.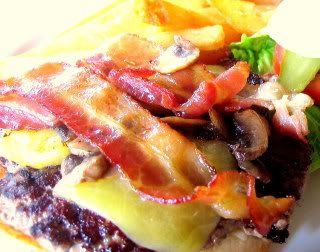 I couldn't decide between the Death by Chocolate Cake with Vanilla ice cream and Riders Cafe Burger. Eventually I went for the burger because I needed something more nutritional.
Nutritional? Burger?
Don't laugh, folks. I'm serious. I've substituting proper meals with cakes, pastries and dessert; it's not like I'm bouncing off the walls but I think my system needs proper food. My train of thought went like this:
protein (meat) + calcium (cheddar cheese) + 2 x refined carbs (sesame bun & steak fries) + 3 x fats (steak fries, bacon and cheddar cheese)
is better than
sugar + butter + fat
Algebra. Logic.
Sigh ... sometimes I swear I take the romance out of life.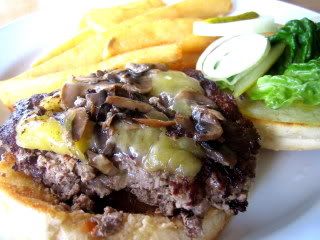 The ground beef was a
wee bit
dry but retained enough juice to moisten the bottom bun. The earthy button mushrooms, fatty bacon and melted cheddar plus buttered bun made for quite a satisfying burger.
I love them steak fries. They remind me of piano keys and the melodious tune they play when they have been deep-fried sun-kissed brown. And occasionally I find those crackling critters that I so adore but meets the disapproval of my throat.
Late lunch / early tea with Zee was lovely. We even turned up in matching outfits and ballet flats – perhaps both of us decided on electric blue to brighten up the weather.
As if our morning wasn't awesome, presenting The Whipped Cream on Our Sundae, Ice Cream on Our Pudding: HORSIE!
Thanks and best regards,
Yixiao
Riders Cafe
51 Fairways Drive
Bukit Timah Saddle Club
Tel: 6466 9819