Hey Chef Michel Han,
I bet you dislike Wilin Low for being the first lawyer-turned-chef. But don't worry he doesn't have your
Fat Nomma
credentials or ahem, boy-next-door looks.
Although the tweed cushion was miniskirt-unfriendly, I thought your minimalist décor worked as it didn't compete with the food for attention. Service was apologetically good too; the servers were chatty and your maitre d had boarding school manners.
Within minutes of settling down (even before our orders were taken), Welcome Snack #1 arrived at our table.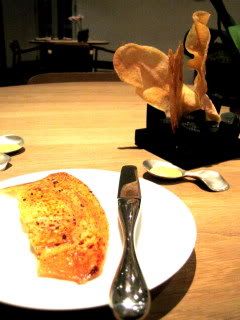 The papadum-lookalikes were in fact potato chips with vinegar powder and pressed chicken skin, served with oyster emulsion Where did the essence of whisky go again? Apologies for the short term memory, which would soon be regular patron of this blog post.
I really enjoyed Welcome Snack #1, especially the sweet stickish chicken skin glaze. Did you know that I loved chicken skin (and only the skin) when I was a kid? This treat was a homerun in terms of taste and ingenuity.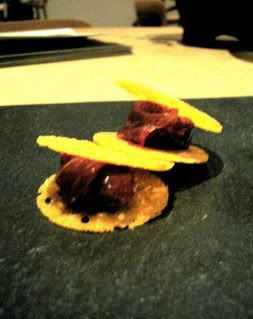 Welcome Snack #2 - air-dried wagyu beef sandwiched between crispy bread - was great as well. In a nutshell, it looked like Fiftythree's take on a beef sandwich. I had totally expected the paper-thin crispy bread to feel like wafer but instead it felt fluffy (but with some weight) on my tongue. How intriguing.
The muffin-looking buns were served in a pouch that contained heated cherry stones, alongside buttermilk butter. Talk about de-di-ca-tion. There I was I was raving about blankets for buns when there were things like
heated stones in pouches
.
Note to self: eat them quick because once they cool, those buns make gobstoppers look like chewing gum.
We were finally onto proper dinner.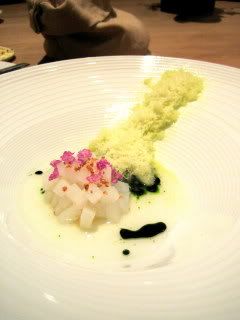 Japanese cuttlefish. Wild cosmos. Green mango. Green tea.
The identically-sized raw Japanese cuttlefish made me marvel at whoever's knife skills and I loved how unaccommodatingly fresh the cuttlefish tasted. The wild cosmos that were scattered on top, while tasteless, provided some much-needed crunchy texture. And I liked how the green tea "ice" provided that tingly sensation when we stick out their tongues to taste snowflakes.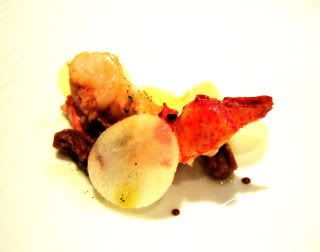 Lotster and Tongue. Textures of Apple.
The next appetizer was a crowd-pleaser. Pan-fried lobster and duck tongue confit, dripped with butter sauce, served with with apple silvers and apple cream. It was hard not to love anything cooked with fat and butter, with a tinge of sweetness.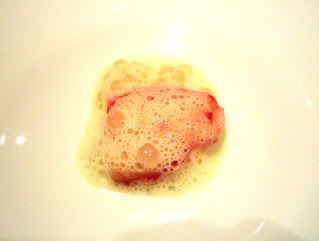 Lobster claw. Elderflower.
After the butter-drenched lobster, the poached lobster sort of fell flat, although the tapioca balls were cute. Hmmm, don't think the elderflower F-O-A-M helped as well.
Potatoes and duckweed. Cofee and Parmesan.
The maitre d was right. Our next dish felt like a walk in the woods. It lust as first sight – the baby potatoes resembled glazed dangos resting on a bed of soil made up of cocoa, coffee and parmesan cheese.
The chocolate, coffee and cheese brittle crumbs were genius. I so badly wanted to lick my stone clean (gaw-, did I just type that?).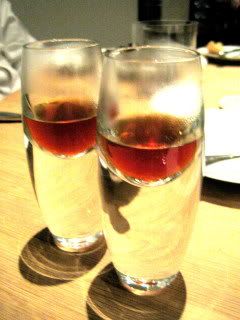 The potatoes had been poached in chicken and potato stock for 36 (?) hours, thereby providing our palate cleanser, a shot of earthy potato juice.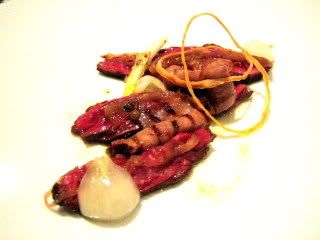 Wagyu and onions.
The Wagyu slices were sleek with bone marrow sauce. You know what, for the first time in a long long long while, I was reminded of the hype over Wagyu. The Wagyu was red-rare but perfectly beefy-tasting without a hint of blood. It was awesome in an I'm-so-good-I'm-bad-for-you kinda way.
To me, the onion rings resembled wedding bands - and Wagyu and onions, you're a keeper.
Chocolate. Mango. Mangosteen.
For the first of our desserts (yes, plural!), the chocolate mousse and mango sherbet practically glided of my tongue. Along with granola bits, I kept scrapping against my plate, trying to prolong the amount of time I spent with it.
Any why don't more people use mangosteens? They are such underrated fruits.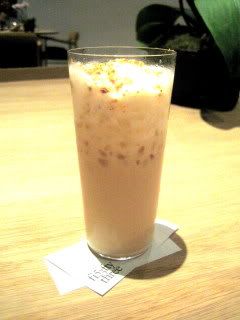 Unfortunately, the palate cleanser didn't do much for me. I couldn't see how cleansing "barley milk with coconut emulsion" would have been and the icy shards were distracting.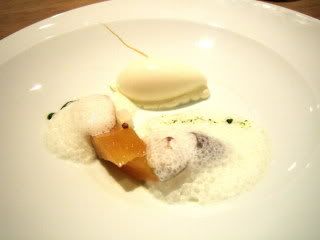 The second dessert was a dish less familiar. Cosmos pear poached for 5 hours, with cosmos pear sherbet and coriander foam. It was funny they served this as clean-tasting second dessert after a heavish chocolate treat and milky drink. Oddly enough, the sherbet would have worked as a palate cleanser.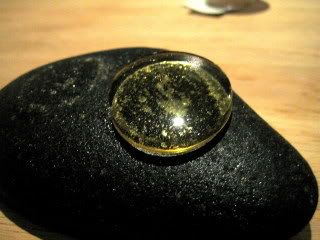 As petite fours, we were presented with a gin & tonic gummy, which allows you to determine your preferred alcoholic level – for maximum flavour, let it rest on your tongue; otherwise if like me, you are alcohol-intolerant, chew on it as fast as you can.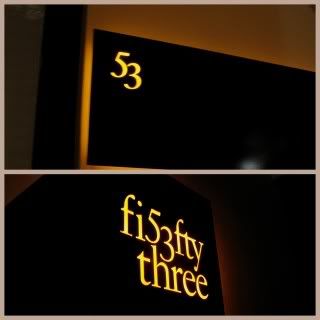 Though I expected the unexpected, I'm glad there were still surprises. I don't think your cuisine is for everyone but I can't wait to see what your next seasonal menu looks like.

Fiftythree
53 Armenian Street
Tel: 6334-5535