Hey Ban Leong,
Glad to know you are doing well. The place was packed on a Saturday evening. Clearly it was one of those places that many people relied on for solid comfort food during family gatherings and corporate bonding. Thankfully in your semi- chaos, our party of 4 scored a table pretty quickly, although the ones that came after us weren't quite as lucky.
And you displayed your awards so proudly. Your ma and pa must have been so proud of you.
I really like the only non-seafood dish we had. The stir-fried black pepper beef provided enough pepper kick without choking and my my, your beef slices were more tender than the Wagyu I've had recently.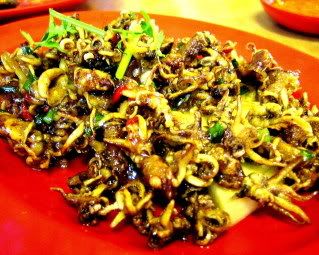 It wasn't my first time trying baby squids but your deep-fried critters were delicious. I could almost imagine them as winning bar snacks in some Momofuku-ish gastropub.
I was a little disappointed your supplier didn't deliver any oysters and hence, we couldn't get to savour your oyster omelette. But I guess it was nice of you not to offer any unfresh mollusks.
Instead, we had your sambal mussels, which I somewhat regretted when a spattering-spitting mussels hot plate arrived at our neighbour's table. That aside, why weren't your sambal mussels lip-numbingly spicy? The mussels were fresh and bountiful but I ain't got no satisfaction from the sissy gravy.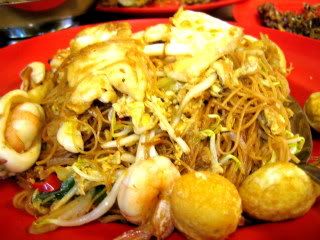 I've heard so much about your Birthday Noodles, a mee sua fry-up with egg, fish, prawns, bean sprouts and quail eggs. Though it was slightly under-salted, I did like it.
What do you mean, A
re you sure
? Didn't you see me re-fill my plate 3 times?!
I wonder if mum had any of it since it was supposed to be her birthday dinner but the dish never quite made it to her side of the table. Hmmm.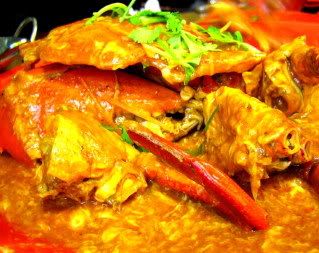 Ban Leong, you really know how to save the best for the last. I squealed aloud (albeit internally) when the CHILI CRAB (yes in CAPS) arrived. The big bad hugeass Sri Lanka crab sat in a puddle of eggy-gooish gravy, followed shortly by its entourage a plate of 4 deep-fried mantous.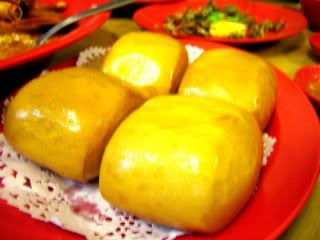 Because man can't live by baked bread alone and that's why G.O.D created deep-fried mantous. Good of Desire indeed.
The pinchers were huge but Yang and I didn't have it. We insisted our parents have it – knowing very well that mum would probably have offered it to us. While they dug and picked at the pinchers, I took over mum and dad's mantous.
Tear, dip and slurp. Did I care that I might have suffered third-degree burns on my fingers? Or that someone could have snapped a picture of me looking like Canon the Barbarianess? No.
At the risk of sounding like a cheap date, I was incredibly happy indulging in my fried mantous and chili crab gravy. At this point, seeing how we might have established some goodwill, can I express another mini gripe?
KICK UP THE SPICE FACTOR,WILL YA?
Smile.
Best Regards,
Yixiao
Ban Leong Wah Hoe Seafood 万隆华和海鲜菜馆
122 Casuarina Road
Tel: 6452 2824