I last visited Prive Bakery Cafe in
October 2008
and left visibly impressed despite a heavy dinner at Kaiho Sushi and first desserts at TCC before that.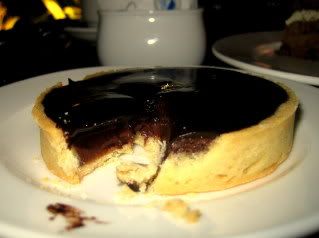 This time round, I thought the Baked Chocolate Tart was intensely good. It had a thin, crispy shell that broke away easily without shattering into iffy bits - crumbs on clothes is such wastage! And in our humidity, the rich chocolate center turned oozzy as the night wore on.
That's it. A simply decadent tart without your usual frou frou nuts, crisps ding dong bits. How beautiful.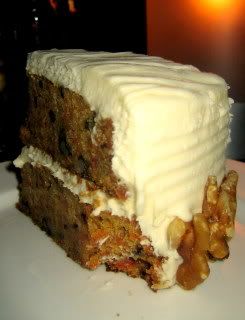 With the right mix of walnuts, shredded carrots and sponginess, the carrot cake was pretty good too. Although Cedele's is my default pin-up girl, Prive's lemon-infused cream cheese frosting
might
have dethroned the former. But it's ok Cedele, you are 10 000 times more accessible than Prive so I highly doubt I could ever bypass you without a second glance.
I really want to visit for the savory stuff next! (Diana, are you reading this?)
Prive Bakery Cafe
2 Keppel Bay Vista,
Marina at Keppel Bay
(S) 098382
Tel: 6776 0777