Diana left a comment on my blog when I first blogged about Wasabi Tei, proclaiming, "I want to eat this when I come home!"
True to her word, on her 3rd day back, we met up for lunch at Wasabi Tei.
We are here live reporting, "Time: 11:48am. Person currently in line: One. Verdict: Awesomeness."

And the awesomeness continued throughout lunch. We went for the lunch set because it had everything we wanted. I don't remember what the set is called but it is printed on a ugly-diluted-green A4 piece of paper, stuck unceremoniously onto the wall.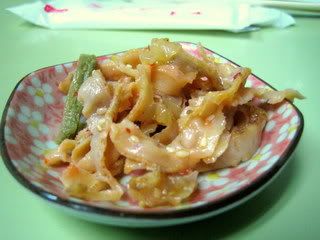 Before the actual meal begin, we were given this conch (jellyfish?) starter that piqued our tastebuds with its vinegarish taste.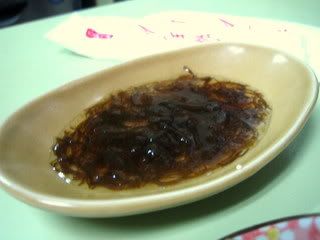 Our appetizer was this angel-hair-seaweed thing that was almost tasteless but fun to eat. Well, fun if you enjoy watching things slip off your chopsticks ... and not being able to eat them without a spoon till you drag your chin across the table.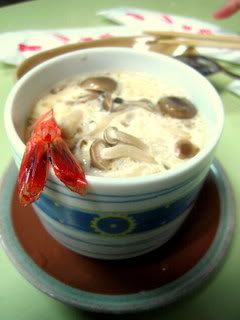 My younger sister is the chawanmushi freak in the family and Wasabi Tei's chawanmushi hears her sprouting wedding vows. It was silky and light, filled with mushrooms, faux sharksfin threads, a shrimp and crabstick; but the one thing I was drawn to was the broth that heightened its flavour.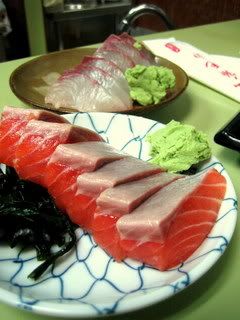 We ordered an additional hamachi sashimi that left noone raving over it. I should have ordered a double portion of salmon sashimi because it was SATISFYINGLY THICK! I tell you. Jeremy Piven, eat your heart out!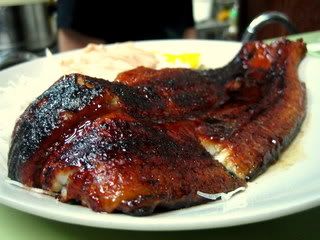 Both of us were gobsmacked by the size of the grilled unagi. It was longer than both our faces, pretty much a foot long's worth of rousing richness.
Must keep up with demeanour, don't get carried away and fall off bar stool...
Dessert was green tea ice cream - creamy, not particularly strong but one of the better ones I've had.
You know all the hooha about its (lack of) service kind of makes me defensive for them because I'm pretty sure they are doing their best. Consistency may not be Wasabi Tei's strongest point but on a good day, it can't be beaten.
Wasabi Tei Japanese Cuisine
14 Scotts Road
#05-70 Far East Plaza