My sister was telling me about Itamae Sushi and how people waited close to two hours for awesome recession-friendly sushi. I was tempted to brave the way but on my way there, I walked past another sushi restaurant that spotted a queue - definitely a more acceptable one.
Itacho Sushi was its name and no. 3229 my queue number.
I snagged a seat by the sushi counter ten minutes later and soon found myself in company of some good sushi.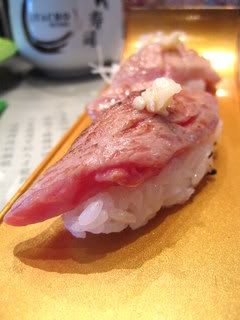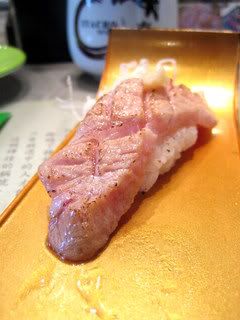 I knew I had to order the grilled Japanese Grade 5A beef and grilled otoro sushi. Just imagine mouthfuls of devastingly oily creamy sushi! How can one say 'No' to a dish like this? They didn't disappoint and best of all, they didn't burn a hole in my pocket. Get this, each nugget only cost about $ 6 - $7. EACH. UNO. I'm sorry folks but you could never get this in Singapore.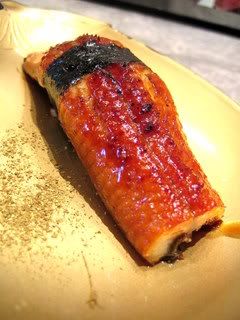 I tried not to order the usual suspects but I couldn't resist unagi nigiri and smoked salmon. The thickish unagi made me smile with its familiar richness.
The only letdown was the Itacho Sushi, a maki made of squid, salmon, lettuce, topped with uni and ikura, wrapped with bonito flakes. Odd, very odd. Maybe there was too much going on.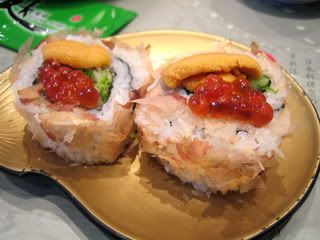 Though you can tell the rice wasn't exact the best grade, the top-heavy sushi more than satiated. I walked past Itamae and spied an almost identical menu - turns our Itacho is Itamae's sister restaurant! Except I think Itamae has a conveyor belt but not Itacho. Restaurants like Itacho Sushi probably won't gain Michelin or Miele recognition but they definitely deserve some credit for keeping the masses happy.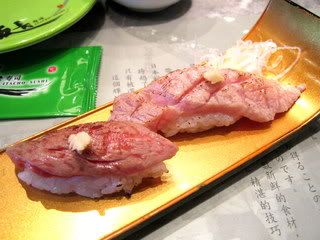 Oh yeah, on a really random note, my sister lives opposite BO Innovation and this place called 'Shake em' Buns'. Funny.
Itacho Sushi
At various locations