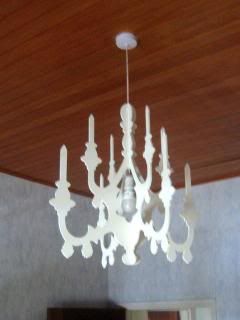 You light up my life.
No, I didn't swallow a Precious Moments gift card. I'm referring to my new room chandelier or-is-it.
Isn't it beautiful?
Many thanks to a couple of individuals who bought / carried / shipped it back from Urban Outfitters New York.
After our Euradian meal at Herbs & Spices, we decided to head somewhere else for dessert. Initially we wanted to head to Icekimo for ice cream but we decided to check out the newly-opened Ice3 Cafe instead.
Their website quipped, "Our place has the essence of warm and cozy ambience". Well, I thought Ice3 Cafe's interior was decidedly masculine- dark tones with light-saberish illumination, very sci-fi-underground-laboratory like.
Warm and cozy if you are a Jedi or Darth Vadar.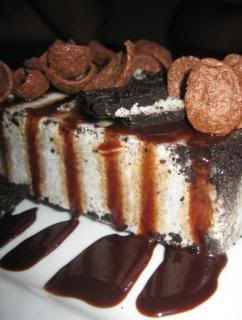 I think their ice cream mud pies are famous but we didn't try their award-winning Alcoholics Anonymous Mudpie "the only mudpie awarded platinum rating in Sweetest Things, Singapore's Best desserts".
Instead, we followed our instincts and went with the Cookie Monster Mudpie, a block of cookies and cream ice cream with Oreo crust, topped with KoKo Krunch cereal, Oreo cookie chunks and chocolate fudge.
I thought it was pretty ho-hum. To begin with, I didn't find the presentation appealing because it reminded me of a tofu block. The store-bought KoKo Krunch cereal and Oreo cookies were vaguely awe-inspiring, and the cookies and cream ice cream was very "commercial-tasting".
Still it was better than the apple crumble.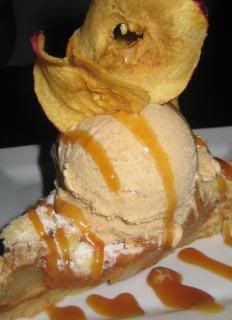 To cut Ice3 Cafe some slack, I didn't realise they served the apple crumble with cinnamon ice cream, instead of the regular vanilla ice cream; and more importantly, how much I hated cinnamon ice cream.
I never thought I would use the word 'hate' on ice cream because I've always preached universal love for all kinds of ice cream. However the cinnamon ice cream here tasted just like chilled toothpaste! Since then, cinnamon ice cream was relegated to the 'No Way Jose' category, right up there with licorice and marzipan.
Shudder.
On its own, the apple-chunks-filled crumble could have probably shared the limelight with the mud pie; but topped with cinnamon ice cream and it became the abomination of the century.
We were the only patrons around as it was still early but service was a little patchy. We had to remind our waiter about the water and that we needed three, instead of two forks.
Couldn't he tell that there were one - two - three of us?
So much for being adventurous, looks like I will just stick with Icekimo in the future.