Although Garibaldi's has been around the block, I only recently visited it for the first time last week. My friend and I went for a couple of ala carte dishes and the Menu Degustazione, which featured tasting portions of Wagyu beef carpaccio, grilled US Scallop, black Ink Tagliolini, roast lamb tenderloin and aromatic herbs jelly.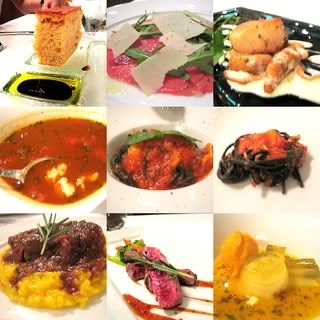 However none of the Degustazione came close to matching the Osso Buco Con Risotto (braised veal shank with saffron risotto), in terms of flavour and satisfaction. Maybe I don't quite buy the Italian Fine Dining Experience thing as Italian has always set out to be a hearty, family-affair type of meal.
The Osso Buco Con Risotto was Os-so-lovely comfort food and fitted right into the latter category. The one-pot-favourite braised veal shank was tender but tuggable. The al dente risotto was amazingly rich, each full-bodied grain bursting and coated with luxe creaminess; yet contributing to the overall smooth consistency of the risotto.
Garibaldi is worth returning for this dish alone.