Ever since
my trip to Spain
, I have found it nearly impossible to find good AND authentic Spanish tapas in Singapore. Too many restaurants attempt to
pass off tiny-portions-smalls-plates as tapas
.
LIARRRSSS! Gimme my Tortilla Espanola… Where's my Pulpo Gallega?
One Friday night, mum and I checked out Bodega y Tapas, part of the Esmirada Group. Located at Orchard Hotel next to Esmirada restaurant, Bodega provided a chill pill to those seeking out relatively authentic tapas. I took a liking to the warm interior, open-kitchen concept right away but a verdict couldn't be drawn without tasting the food.
The Gambas al ajillo, chili garlic prawns, arrived sizzling away in a bath of olive oil and chili flakes. Prawns were crunchy and fresh, and we conveniently sopped up the excess olive oil and chili flakes with our baguette. Somehow I stupidly disregarded the sizzling pan as a warning, scalding the roof of my mouth as a result.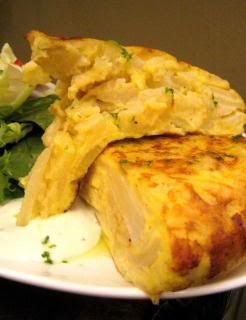 What is tapas without the Tortilla Espanola? We tucked into a hunk of traditional Spanish omelette that was at least an inch thick, layers and layers of thinly-sliced potatoes and onion encased in egg sheath. It was cloying but the tangy garlic mayo alioli dip relieved us off its heaviness. You know it was probably even better than the one I had in Spain since this was served hot off the pan. By right, the side salad should have been overshadowed by the tortilla but it ducked that fate with an unsuspectingly good dressing.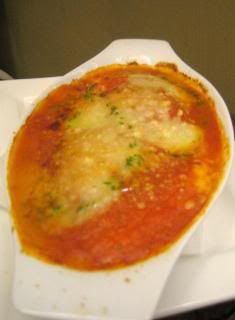 The Piquillos rellenos de pollo con salsa Espanola, red peppers stuffed with minced chicken baked in Spanish sauce and cheese, was pretty good too. It was messy comfort food that could have easily tasted store-bought but didn't.
The Costillas de cordero a la parilla con salsa de pimiento, lamb racks with black pepper sauce, was more average than the others. Two out of three pieces were pink-in-the-middle tender while the other was on the tough side. Why the difference? No idea.
On our way out of the restaurant, I saw a couple digging into their lamb shank with Moroccan cous cous - will / must / going to try that soon!
Service was very good; though it was one-for-one happy hour, mum and I gave our Bobby-Chin-look-alike waiter our complementary Bodega Bodega Margarita since we were not drinkers to begin with. We thoroughly enjoyed our time at Bodega; my only grip was the uncomfortable bar stool and uneven log tables that made juggling our tapas dishes seem like a perilous act.
Zhu! Tried test and approved!