About an hour's worth of shopping for ties, Aunt Jo and I were in need of some refreshments. We literally bumped into Sienna Café, a tiny café "nestled at the base of the escalators in the Central Atrium". Ha, this is hilarious. The Selfridges website described the café as the place "to see and be seen"? Yeah sure if people can be bothered to crane their necks downwards while they ride the escalators.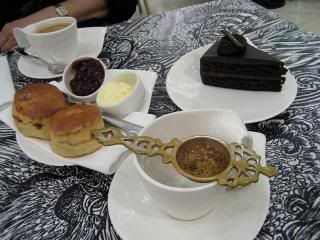 We had a chocolate cake, well let's just call it "Chocolate Fudge Cake" because looking at it, it could pass of as one. Haha and it also saves me the trouble of describing something forgettable. Hey it's chocolate fudge cake i.e. if you have been reading food blogs long enough, you would know how one tastes even without actually eating one.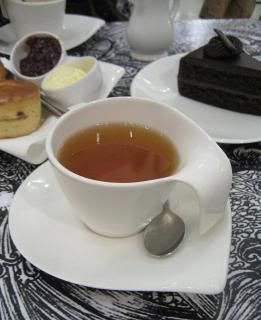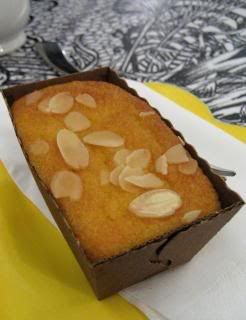 The Citrus Pound Cake was a buttery loaf, infused with a deep but pleasant scent of clementine.
By the way, if you think the table looks a little arty-farty, it's because the café has been given the "surreal treatment, courtesy of culinary threesome extraordinaire Les Trois Garçons", which "after reinvention by this highly creative team, Sienna Café will look, feel and taste different – selling Surrealism inspired cakes and nibbles."
So said the PR team.
Well, there's nothing surreal about Sienna's scones. It was bang-on, almost teeth-cracking hard. I toasted the other one in the microwave the next day and it redeemed itself somewhat; but otherwise, I think this should probably be classified as a dangerous object because with a careful aim, you could hurt somebody.
Sienna Cafe
Selfridges
Lower Gound Floor