I had my "I died and gone to heaven" moment at Borough Market. One of the largest food markets in the world, it's crowded but you can find an amazing variety of food and produce such as …
-Takes a deep cyber-breath-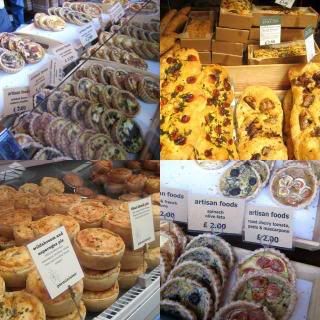 Artisan cheeses, cured hams, beans and pulses, olive oils, green, black and stuffed olives, truffle oil, foie gras, organic fruit, vegetables and wild mushrooms, freshly pressed fruit juices, preserves, oysters , smoked fish, artisan bread, studded with sundried tomatoes and herbs,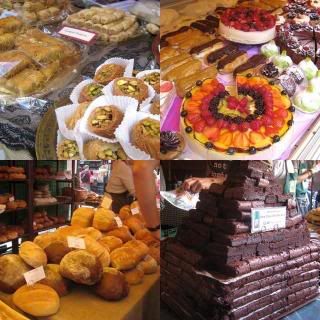 chocolate truffles, balaclavas, pastries, cakes, desserts such as banoffee pie, lemon tart, carrot cake, apple strudel, chocolate and vanilla éclair, vanilla pie, chocolate brownies, flourless baked chocolate truffles, raspberry cake, tiramisu, freshly made pasta, raviolis, tortellini, sausages, kebabs, falafels, sweet and savory tarts, quiches etc etc.
I looked up the brownie pyramid and saw 2 significant crumbs at the top of the pyramid
"Are you going to sell that?" I asked.
The guy shook his head and gave me the brownie crumbs. Score!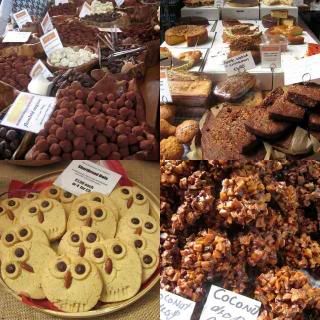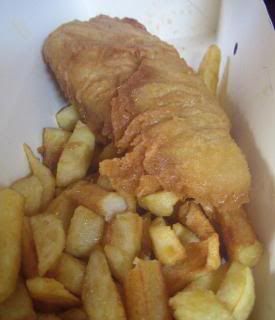 The market also houses restaurants and food stalls. The first thing we shared was a box of fish and chips. It wasn't the best fish & chips I've had as the chips were a little limp but we were starving. I also spied a salt beef sandwich stall but no one else seemed interested in sharing.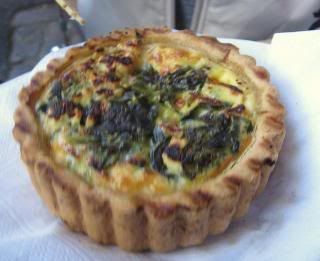 tart
Dad and I shared a spinach and blue cheese tart, which caused my mum and yang to shudder in horror. The tart crumbed easily and luckily the blue cheese wasn't too strong- either that or my tastebuds has morbidly altered by the random food I've been snacking all day.
Then I finally saw something that made my gut grovel.
Grilled cheese sandwich.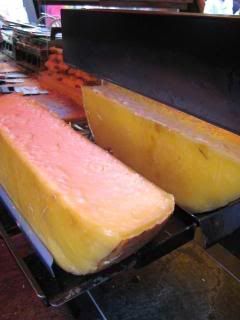 In haste, I grabbed a queue ticket (yes, they are that popular and busy) and stood in front of the cheese-melting machine, utterly mesmerized by the bubbling surface.
"I'll make a special one for you" the raclette guy told my sister and I. Aww, special treatment.
Too bad my life isn't a fairy tale or made of milk and honey because my sister asked me, "you ordered that?" pointing to the potato-gherkin-cheese mess.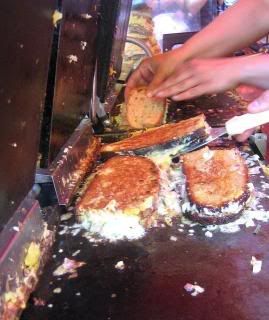 OH NO! I meant to get a grilled cheese sandwich, not that potato-gherkin-cheese mess. In sheer embarrassment, I took a new ticket and hobbled over to the other side where shelves-ful of grilled cheese sandwiches lay waiting to be pressed by the Panini grill. Oh, another queue! The agony of waiting and getting my grilled cheese sandwich after like, three people!?
When it was finally handed to me, I held in my hands like a newborn baby.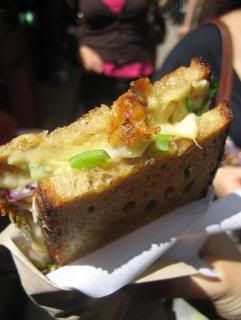 Just imagine melted Cheddar cheese, onions and leeks, nuzzled between buttered sourdoughs. It was greasy, messy and crazily delicious. Seriously if its deliciousness were measured in dollars, people would be fighting over to include this in their pre-nup. This was all 'you had me at hello,' 'you complete me' and all the cheesy movie love lines.
Jack, I'm flying.
CRASH.
No more grilled cheese sandwiches for you, woman.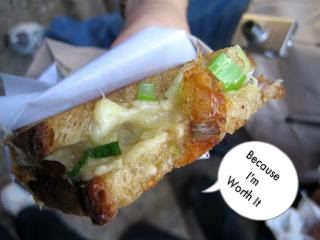 Borough High Street
Stoney Street and Winchester Walk
London, SE1 1TL
Opening hours
Thursdays: 11am - 5pm
Fridays: 12pm - 6pm
Saturdays: 9am - 4pm