The Pancake House is a tiny mouse-hole café tucked under a Bed & Breakfast. Within its wooden furniture and tight walkways, I felt like Gandalf visiting the hobbits' humble abode.
smoked salmon and asparagus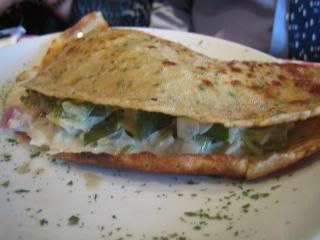 bacon, blue cheese and leek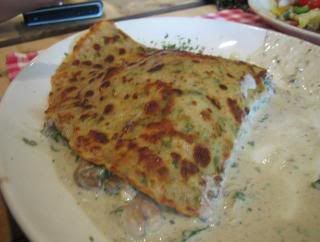 mushroom
A cross between a roti prata and dosai, browned blisters covered its once-smooth skin. The pancakes' thickish folds bounded the delicious insides protectively but gave way easily to the cut-and-pull of our forks and knives.
The pancakes were huge and they were all good.
Pheesh, how
diplomatic! Choose a favourite.
I can't and here's why.
I chose the smoked salmon and asparagus because I love love love smoked salmon but that turned out to be the most boring of the lot.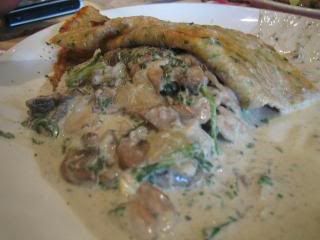 mushroom
The mushroom pancake was heady and creamy; the cream sauce moisturized my smoked salmon pancake; carbonara lovers would kiss the ground for it but sadly, I'm not one.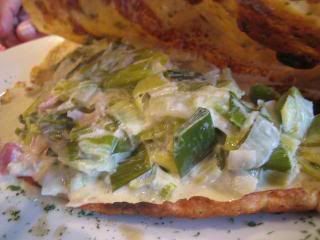 bacon, blue cheese and leek
The bacon, blue cheese and leek pancake definitely made an impression; it's unusual and somewhat suspecting trio wowed on first bite; however, its richness meant I doubt I could finish this without hitting the ground first, facewards.
What does that leave me? Back to square one with the smoked salmon?
Hmmm, take my advice and order all three because they really compliment each other.
After we were done with the savoury, the sweets made an appearance. Even though some of us were stuffed, we had to have their sweet pancakes because no one in the right mind would visit Durham again after my sister's graduation.
Ounch.
Brutal.
We had their lemon and sugar, as well as banana, honey and cinnamon; my sister's friends, Nick and Joyce shared the orange, caramel and grand marnier pancake. All pancakes were served with vanilla ice cream and were simply dreamy.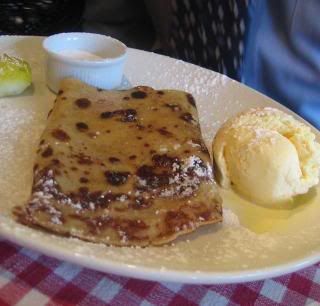 lemon and sugar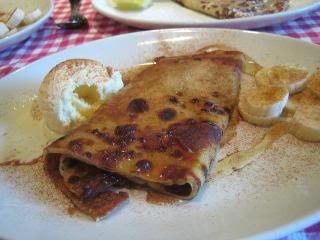 banana, honey and cinnamon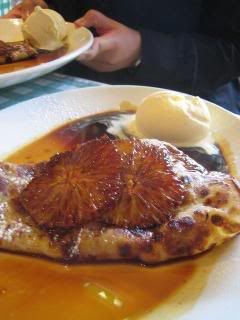 orange, caramel and grand marnier
Yes we had to drag our sorry but satisfied sacks out of the hobbit hole; good thing, we had five hours to rest before dinner. Haha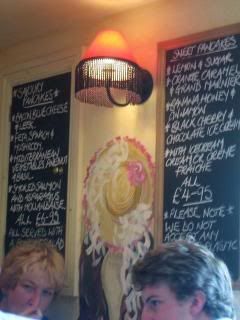 Pancake House @ Georgian Town House
11 Crossgate
Durham
Phone 0191 386 8070