If you thought Durham was all medieval castle, cobbled streets and old-fashioned English pubs, well, you are not exactly far off.
Let's be honest.
Durham -sigh- Good ol' (as in 'really old') Durham isn't about to overthrow London or New York's as Capital of the World anytime soon. Although they do have their fair share of clubs, Coolhunters aren't about to move to Durham to spread more-than-just-words anytime soon. Hide Bar and Grill probably raised Durham's cool meter by centigrades.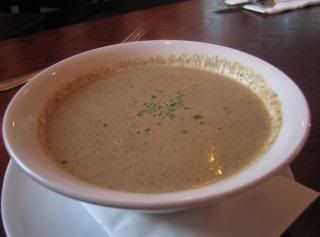 You know a mushroom soup is worth its spore-bearing body when you get a pureed blend of grainy mushrooms… and just not mushroom toenail-bits in baby's-puke-cream. Hide's mushroom soup was awesome and one could almost hear the whirling sound of a food processor or hand blender.
Dad's lamb rump was served on a bed of zucchini and the whole baby potatoes lent a rustic feel to the entire dish. The rump was cajolingly tender, despite its thickness.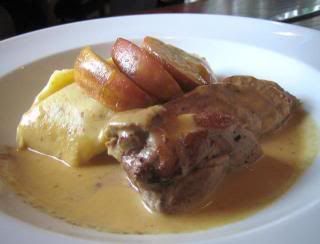 Predictably, mum went for the pork filet that came with wholegrain mash and sliced caramelized apples, drenched in pear cider cream. Her pork would have made those who weren't afraid of becoming public spectacles squeal with delight. Although the mash was totally devoid of the wholegrain-ness, the overall assembly was very pleasing.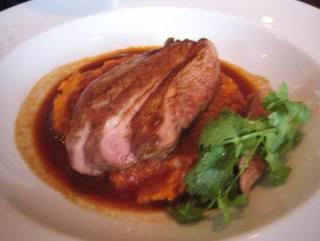 I had considered ordering the marinated duck breast that Yang had because it came with sweet –delovely!- potato and garlic mash. Well, I didn't because she really wanted it and I had other options… Yang must have enjoyed her duck or been really really hungry. She finished so quickly, I didn't even get a chance to say, "Can I try…" If the duck's deliciousness were measured by the number of seconds it took to polish off the dish, I think it's safe to say this duck's a winner.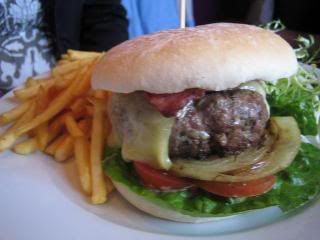 Joyce's bacon-onion-cheeseburger was huge. In fact, the rest of us were more or less done with our mains and she was barely halfway through. I didn't try it because it was my first time meeting her and I didn't want to scare her by pinching her dish; in other words, yeap I was
pretending to be civilized
. She couldn't finish her fries and that almost compromised my pseudo-civilized act. I asked for one frie. Uno. Singular. And I stopped. Gaw-, I was
thisssss
close to flubbing my act…
I had the cod with chorizo and buttered cabbage. Sadly, the cod failed to swim as it was dry and underseasoned. The chorizo and buttered cabbage was interesting and odd at the same time - interesting together; odd with the cod - but it failed to revive the sinking dish.
Like the cod, Nick's pancetta-wrapped goat's-cheese-stuffed chicken was only interesting on paper. To me, the description read "Pancetta! Wrapped! Stuffed! Goat's cheese! Fireworks!" but taste-wise, it was "Blah Blah Flightless Bird". Just in case you are wondering how I managed to keep up my act
and
taste this dish, well Nick and I knew each other back in JC; though we were vaguely aware of each other's existence i.e. not BFFs, I thought that was enough to warrant a bite of his dish. Ah, so many things to consider when you are eating off someone's plate…
We shared a platter of dessert, which consisted of a cheesecake, brownie, pudding, curd and "mess".
The blueberry cheesecake sat in in the middle of the plate, where a layer of blueberry topping clothed the soft velvety cheesecake.
The brownie with ice cream was … well you can't go wrong with this dessert, especially if the brownie's Fudgy with a capital 'F'.
Marmalade Pantry's STDP will always be the benchmark to meet or beat; Hide's was delectable but the pudding still hadn't dethroned Marmalade's 'cushion' status. I can do with just 'delectable' … haha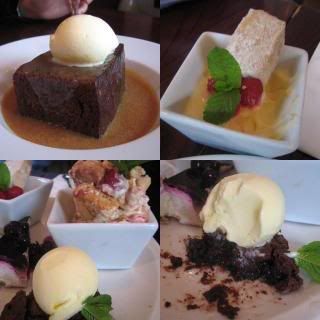 'Eton mess' is a classic English dessert traditionally served at Eton College's annual "Fourth of June" celebration picnic. Despite its elite origins, this dessert was by and large a tooth-achingly sweet mess made of strawberries, meringue, cream and tons and tons and tons of sugar. Did I mention it's tooth-achingly sweet?
The lemon curd was everything one could hope for in a lemon curd- custardy, citrusy and sweetish, with enough zest to own the term 'lemon curd'.
Overall, it was an enjoyable dinner at Hide. Too bad we only found out about this place after Yang spent 3 years in Durham.
Hide Bar and Grill
39 Saddler Street
Durham
DH1 3NU
Phone 0191 384 1999