This year's birthday was extremely low-key. Birthdays were usually opportunistic it's-all-about-me days but this year for some reason, I felt like I have a lot to be thankful for, thus I would rather do something for the people around me than indulge in all that fanfare, candles-on-the-cake drama. Am I too late for a mid-year resolution? If not, I would like to be a better daughter, sister and friend- in that order.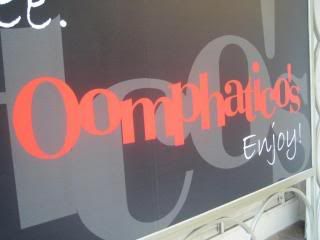 Of course a birthday celebration doesn't necessarily call for fireworks and orchestra-accompanied birthday song. Like Sunday brunch with the girls at Oomphaticos, Tanglin Mall for instance.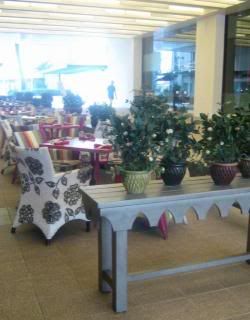 The quirky cafe took a no-holds-barred approach to its interior decor and attitude- it was "Cross Dressing Sunday" and we were unfortunate enough to see their male waiters decked out in skirts and sarongs. What an unusual occupational hazard huh? Haha. The mammoth menu featured food of Italian, American, Japanese, Thai influence but we went with the sane-r dishes.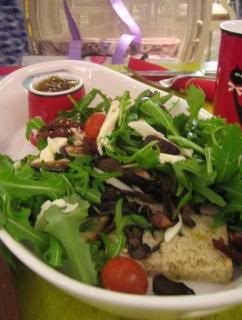 The Gorilla's Breakfast was a slice of olive bread topped with sliced herb-grilled portobello mushrooms, arugula salad, sundried tomatoes and fresh mozzarella slices, served with fig jam on the side.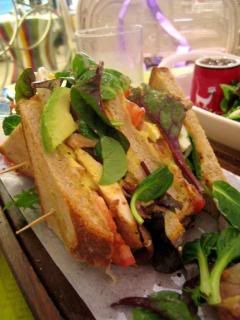 Despite it's name, the dish was very light, which was just as well as our Farmer's Choice sandwich was huge. Packed with egg, bacon, avocados, tomatoes and romaine lettuce, it was quite the exemplary club sandwich. I loved the rustic feel of the breads they used too.
For dessert, we have Toffee Too Much, a mashed up cheesecake with shards of nougatine brittle. I liked it enough i.e. I finished it but I probably wouldn't order it again. Perhaps the dessert would have been sensational if there had been more toffee sauce... yes, a generous drizzle would have been ooo so good. The idea of overdosing on toffee a day after my 23rd birthday suddenly seems like a delectable proposition.
We had order an additional scoop of macadamia ice cream because the Birthday Girl said so... and it's all about me! Crap, I keep forgetting I'm suppose to be more selfless... Sadly like my mid-ear resolution, the ice cream was rather forgettable.
However the birthday gifts more than made up for it! The girls got me "Clotilde's Edible Adventures in Paris" by Clotilde Dusoulier of Chocolate & Zucchini and "Hungry for Paris: The Ultimate Guide to the City's 102 Best Restaurants" by Alexander Lobrano. Truth is I had already "hinted" to the girls what I would like for my birthday as we are close enough to let on birthday wishes. Oddly enough, I'm hesitant to start on the books as they may cause some serious heartache for Paris.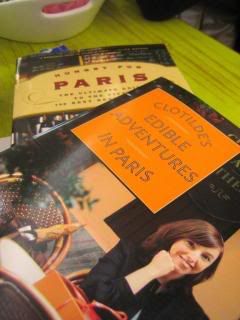 The Edward Monkton card they chose (I love Edward Monkton!) was a darling, as it literally prompted a "you know me so well!" reaction. This is what the card said,
A THOUGHT for GIRLS
Sometimes a person needs SUPPORT, COURAGE, LOVE, HOPE, UNDERSTANDING
and an answer to the Bigger Questions of LIFE.
And sometimes the BIGGEST Question is
"Where can I find a truly unbelievable chocolate fudge brownie?"
As I have said this year, I feel extremely lucky that my life has turned out this way so far.
Naturally on the top of my 'Thank You' list are my parents, who have given so much but ask for so little in return (don't worry I promise to graduate by the end of the this year!)... My sisters, hey it ain't easy living with fellow Alpha types but I'm sure we will figure something out within the next fifty, sixty years... My friends who bring out the best in me over our countless brunch and tea sessions, over French pastries, ice-cream-topped desserts and freshly-baked bread; and more importantly, stuck by me in hard times (and I'm not just referring to bad restaurant service).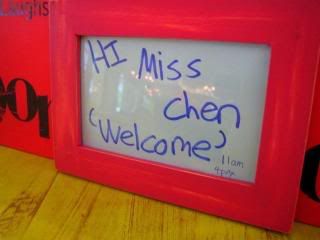 Thank you!