Danish sausages and I go a long way back as I grew up eating Tulip cocktail sausages. Though not exactly the ideal growing-kid diet, man they were good. Along with smorrebrod (open-faced sandwiches) and frikadeller (meatballs), the polser (sausages) is quintessentially Danish and Pølsevogn (polser wagons) are peppered around the city, making it uber-convenient to grab-and-go a snack.
The hot dog sausage is steamed, then grilled and the bread is warmed in either an oven or toaster. Yeap, all that steaming, toasting and grilling all takes place within that cubicle-sized cart.
I personally prefer the "French Hot Dog" so named because it is similar to the French variant. The bun is hollowed into, leaving enough room to stuff the sausage and dressing. To me, this is the best way to eat a hot dog: fuss-free, no worries about dripping sauces- who ever thought of this is genius!
You can get as complicated as you want -ketchup, mustard and remoulade sauce, topped with either raw or fried onions, cucumbers, but I liked to keep it simple so it was just mustard and ketchup for me.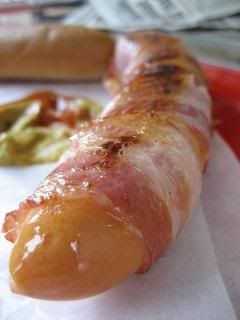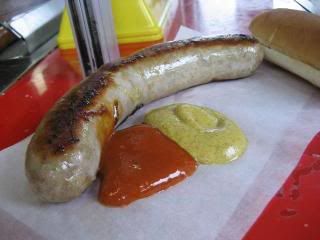 It's seriously tempting to linger at the cart and go, "gee I wonder what this tastes like" and work your way through the menu. I probably wouldn't go bananas over hot dogs anytime soon or anywhere esle, but in Copenhagen, one can't help but feel in
the mood for pølser
.