chiang mai- chronicles of the missing collarbones. [part4]
thus leads to the climax of the chronicles.

the highlight, or rather purpose of our trip was to attend the
chiang mai thai cookery school
and master the art of thai cooking. of course by the end of fice days, we were far from becoming master chefs but i reckon someday, my ability to whip up a delicious plate of phad thai will come in handy.. oh well, the trip worked wonders for my self- esteem as now my limbs don't go weak in front of the stove..

the dishes we cooked were surprisingly easy to handle. we would foirst watch a demonstration in an air-con classroom, then return to our individual stoves to regurgitate what we have just witnessed.

ta-dah- the more notable dishes cooked by your truly!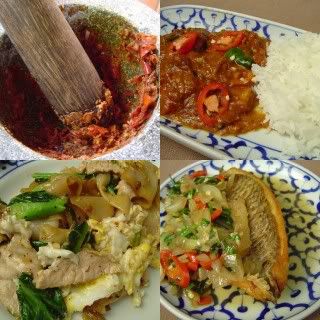 everyday you would prepare about six dishes and you have them for lunch and tea.. can you spell stuffed? in fact, i don't ever remember feeling hungry in chiang mai... everyday you would see and hear people rubbing their well- filled tums, saying "too much eat.. i am stuffed" but some of us don't seem to learn from our mistakes.. haha...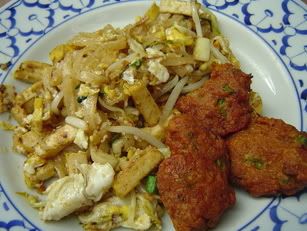 "collarbone, collarbone...... where have you gone, my oollarbone??"


the other amazing aspect of this school was the people you met. my mum sister and i were probably the only asian faces in class (apart from the staff) and people travelled from all over the world, say london scotland denmark fiji brisbane vancouver, just to learn what thai cooking is all about.

you hear tales of how people have been on the road for weeks, travelling from myanmmar, to thailand and are on their way to malaysia and very possible singapore. i even met americans from san francisco who were making their way down to singapore to visit a relative who lived on thomson road! haha.. and this other lady from london called camilia, who sold her car to travel and was about to head home to a 40,000 pounds debt.. there are men who travel without a female counterpart and they attend these cookery lessons on their own accord. now how many singaporean guys have actually entertained such a thought?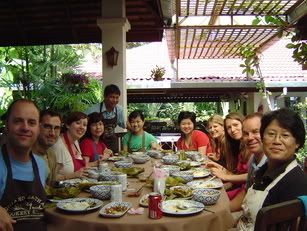 listening to them, you cannot help but marvel at their tenacity to drop everything and live THEIR life.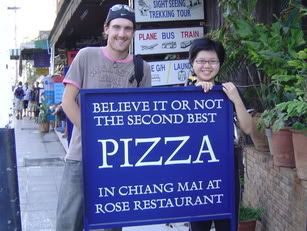 i just had to take a picture of this pizza sign.. when i first saw it i was like, "huh? so who's the best" then i thought about and went, "hey there's a pretty good idea.. because noone can fault you for not being the best... since their is always another pizzeria that is one-up above you.. " haha... this is john from vancouver. he's in the picture as we walked to his guesthouse together as he wanted to pass me one of his already-read book. though he's just done with university, he's perfecting his mandarin at a chengdu university before doing his masters in canada and he plans to visit singapore and malaysia in july! plain 'WOW' huh.
you should definitely chiang mai thai cookery school.. its a great way to learn how to churn out fast sumptious meals and an even more fantastic way to meet people who different lifestyles.
happy 400th post, by the way!