You got brunched.
Christmas carols
actully
put me in a good mood.
Despite the usual toenail- curling, gut- churlish of most cliche tunes, they do have this questionable quality of infesting a "jolly well holiday season" feeling within me. The tunes stay in my head thereafter working its childish yet nostalgic charms into my head.
Just like the flu bug.
Today i had the priviledge of brunching with three amazing ladies at cafe rosso! you got to give dennessa full credit for standing up to the scrambled eggs toast and bacon all by herself! Respect *pounds chest with left fist twice, peace* (how wrong
do i look man?!)
Vanessa savoured a french toast with ham breakfast set; diana did lunch rather than brunch with the penne pomodore 'something'- a tomato-based vegetarian pasta; while i lavished room space on my gluteus maximus on a luxurious baked quiche
just a sidetrack: it was quite a concidence that the four of us assumed sides of either having returned from overseas or are about to leave for somewhere.. Like denessa had just returned from Hong Kong last week, diana from a school trip in New York City only yesterday and how vanessa will be leaving for Milan, plus myself for Copenhagen very very soon.
With the exception of denessa, we probably owe it to our school for the overseas opportunities.. a very 'awww' moment there.. haha.. perhaps, smu should change its punchline to:
smu. experience the jetsetter's lifestyle with us.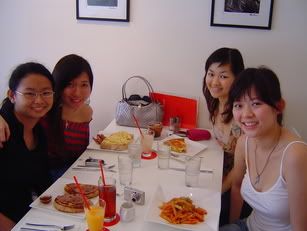 thanks for today's brunch-out, girls! .. reminded me of what i will really miss when i am away.

a taste cafe rosso

these few days are and were going to be great.. caught with charl at crystal -dUh- jade where i renewed my now-unwavering loyalty for scallion pastry.. this sat's new year's eve party.. tomorrow i will be catching the family stone with yang ..

so darr, sher! i've only got till next wednesday before i leave for chiang mai to brunch-munch.. call me!
oh i have signed up with gramaphone (the cd chop) for unlimited dvds for a motnh at $30.. how cool is that?! watched wicker's park yesterday and once again, i SO DO NOT see the big- hoo-ha over diane kruger.. i mean, her blond pallid looks don't really do anything for me.. maybe it is because i am more of a 'dark-haired' person, patrick dempsey anyone? i guess, it isn't much of an acting stretch to pose as the babe all the time too..
perhaps it is the casting director's fault.. to have cast too good-looking adonises opposite her, so much so that she practically fades into semi-obscurity when there is a love scene..
having said that though, it would be hell- cool to have someone as amazingly-cough-hot as josh harnett's character matthew lose his marbles over my disappearance.. HAHA..