We were riding in a cab yesterday when my mum told me my dad's golf appointment was in the morning. though there was a momentary understood silence between us, the knobs in our minds were ticking away, in a sycronized motion like kids who were up to no good.
I decided to make a reservation at somewhere my dad would not have approved of- marmalde pantry. Too frivolous and unnecessarily expensive.. he would have commented. Ok fine, granted this is not exactly church food but since the sunday brunch at Marmalde is so well- regarded, I should have a go to see what the fuss is all about.
On the menu: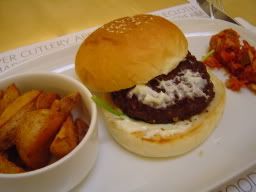 Foie Gras burger with sundried tomato relish
.
The thick sesame bun was pedastrian but the use of a more complex bread would have complicted the taste. This was my virgin attempt with foie gras. It would be sheer understatement to describe the patty as 'rich'. The oil oozesout with every bite and I was practically craving for green tea after mouthfuls. Nonetheless, it was a very enlightening experience.
Apart from the visual aspect of this dish, the layout was well thought out. The potato wedges were neatly stacked in a circular bowl and the tomato relish lay on the other side to prevent a soggy mess. The cup of peppery wedges, with its crisp slightly-burnt skin , was polished off in no time.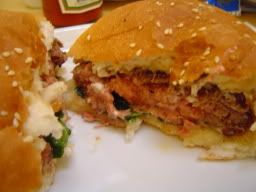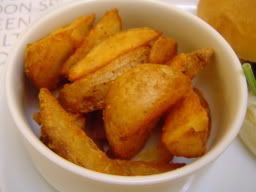 The foie dissected and peppery wedges.

The Ultimate Beef Burger.
If I didn't have any preconceived expectations, I would have described the beef burger as "a laudable effort in creating a mouth-watering gourmet burger". But attached with such a bold name, this fell short of expectations. It was undeniably above average but lacking the fireworks, which would cause me to renounce other burgers.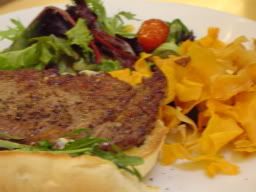 Ribeye steak sandwich with grilled onions, avocado & wasabi mayonnaise


We welcomed the tender ribeye with arms wide open and with the presence of wasabi mayonnaise, this sandwich was more outstanding than the Ultimate Beef Burger .
I wonder what kind of chips were used? They reminded me of flower petals but tasted somewhat like light tapioca chips. I wonder if it was a coincidence that I had wedges, Mum had thick ol' french fries and Jimmy had petal-like chips. hmmm... If it weren't so, i would give marmalade credit for providing us with different types of sides.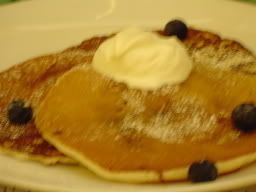 Banana pancakes with blueberries and creme fraiche
.
The only 'sweet' dish on our table, thus proviing quite the relief from the greasy slabs of meat and buttered bread. Otherwise, it was pretty much average, just a spruced up version of McDonald's hotcakes.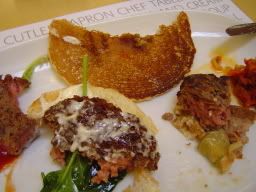 a little bit of this and a little bit of that-
the beauty of sharing amongst family.

somehow, i just cannot imagine how those chichi socialites mantain their cool demeanor when tucking into a mean beef burger.
Jie asked which one we preferred- Marmalde or Lazy Gourmet.. Hmm tough fight because marmalade is quite a force to be reckoned with but i would say lazy gourmet is more cosy and i think the croissants at lazy gourmet really cannot be beaten.
Marmalde Pantry is one of those incredibly pretentious places that tries to downplay its "Royal Chi-chiness" behaviour by dressing their waiters in tatty t-shirts. But it ain't funny. In fact, it looks disrespectful. The next time round I want to be served by a guy who looks like he just rolled out of bed, I will go to a surbuban coffee shop and have a ridiculously cheap breakfast.