meat the swede.
didn't make it for my
8:30am
class.


going to have
another

bowl of

tau
huay

,

courtesy of
darrelle

.
hey dearie

, hope your papadums are still edible.
oh yea i totally forgot to THANK DARRELLE for helping me out with the pictures.. could not have photographed without a shaky hand if not for her her slicing, twisting, flipping and posing with the food.
i met mum at ikea this afternoon for their kitchen planning services. of course, after reading aromacookery's experience
at ikea
there was an excuse to have lunch there as well.. -grin
upon arrival, i was greeted by a 3-m long queue
like whoa!
but the queue moved along pretty quickly under the supervison of the ikea employees and their coordinated hand signals.. kind of reminded me of those intense wall street scenes where market traders point just about in every direction, with swirls and flips to heighten the atmosphere. haha..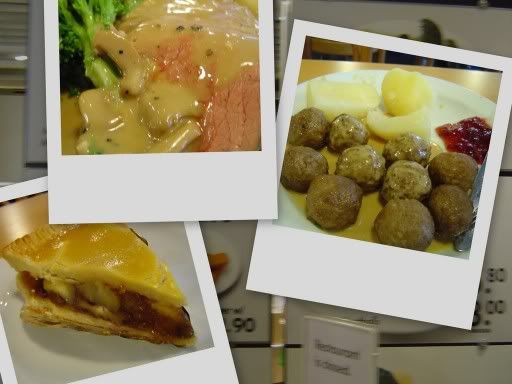 mum had the swedish meatballs.. tenderly juicy, the winning formula is a result of swedish beef and danish pork served with cream sauce, some-berry jam, and steamed potatoes while two medium-rare slices of roast beef topped with mushroom sauce and served with fries and broccoli became my lunch.
one thing we did not but SHOULD HAVE had were the chicken wings, looking around our table was probably the only one free of those finger-lickin' delight .. but after last night's fiasco, it took a herculean effort to lay off the wings... but well, our apple pie dessert (choked full of apples and walnuts) kind of made up for it.
we got lunch and our kitchen proposal! and if all goes well, we will have a new kitchen in 2 weeks... darr! you could make your riccotta pancakes at my place.. hahah...