after scratching out a list of possible dinneries, mum "gamely" suggested the newly- renovated restaurant hong yuen at island club's 19th hole and i emphasize on the word 'gamely' as my tough-as-barnacles-to-please dad has never had a good impression of club food, so our first experience was a make-or-break scenario for the club, do-or-die situation for the rest of us.
(from left-right; top-to-bottom)
duck's tongue; diced beef with sliced garlic- japanese style; scallop and steamed beancurd; fried seafood noodle; crispy chicken in prawn paste; pipa duck; hong yuen at island country club; red bean paste pancake; r.b.p.p- up close and peronal
taste-wise, we were impressed. our appetizer the braised duck's tongue was chewy and tasty; the diced beef reminded us of a well-executed steak. savoury on the outside with a hint of reddness within, thus maintaining a pleasant moist touch
scallop and steamed beancurd was a real surprise since i has expected it to be nondescript like steam bland tofu with a few careless strewns of orangy pseudo-scallops but when the decorative dish arrived, it tasted every bit as good as it looked. i zipped and i ate.
the fried seafood noodle received nods for not just its dandy flavour but with its generous chunks of ingredients. the freshCRUNNNCHHYY prawns! the wide slabs of squids! the scallops! the not-dory-fish-but-red-garoupa (noted dad) slices!
crispy chicken in prawn paste tasted like what most har cheong kai tasted like and was a natural winner in the taste department; pipa duck was extremely tasty too. evidently, the layer of fat that conjoins the meat and skin is what keeps the cardiologists' cash registers ringing and rining.. and for you my dear -sigh- readers, i begrudingly swallowed many duck skins just to deliver more honest review.
the job hazards i face..
red bean paste pancake- what esle does 'it' better for a red bean fiend like me? and if you look closely there is actually more than one outer layer- the crisp oily one and another which wraps the paste- how artifully executed.
overall, hong yuen was good- even dad said so! so yang, next time you return, you will probably be eating here on the weekends.. apart from sushi tei.. haha
again AGAIN!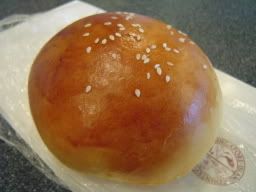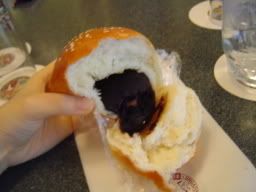 i make yixiao go weak in the knees! even brad pitt does not do that

i just have to introduce you guys to my favourite treat at the club. RED BEAN BUN! yesyes, how anti-climax but seriously this bun is scarily good.. just note the symbolically- symmetrical roundess.. of my face the bun!

my acquired way of eating this would be to first split the bun (as shown on the right) then for maximium pleasure, make your way through the generous sweetish inside with a fictiously-small bite. you are suppose to look geisha-coy when eating a red bean bun. and once the intense beany sweetness hits you, take another small bite of the carbo-bit to calm your adrenaline level.
- repeat above steps with the rest of the bun. sigh, i have not met anyone who appreciates a good red bean bun the way i do.



school re-commences tomorrow.


can't hardly wait.
as if.