happy 300th post.
it has been a while! but here's a super long-winded post to make up for it.
the house is rather empty now that my parents and yang are again in uk but not exactly quiet since my grandmother is staying over. haha.
some pictures when jie, jimmy and i went to see yang off at the airport.
doesn't the sight of changi airport make you glee with pride? as a singaporean, i often find myself yearning for the same level of "wholeness" when overseas. unlike other airports, retail galore and satisfying gastronomical experiences await you even after you have passed the immigration gates.
but we first had lunch at the staff canteen- which is one place to take note of when budget calls... shhh.. and we practically feasted since it was yang's "last meal in singapore" nasi padang, ban mian.. ice kachang .. ice chengteng.. then when jie was going to takeaway something for the maid, i came across this amazing prawn ball batter which i NEEDED TO HAVE despite the seemingly rounder face and wasitline... and it was seriously good.. god knows how much batter and oil or trans fat were used.. think fresh out of the frying wok with sweet chili sauce drizzled over all, ech, it should be declared illegal!
oh yesh, wonder why we took this "country-bumpkin-sunstruck-by-starbucks" shot.. that's because durham does not have a single starbucks outlet! haha.. talk about the lack of civilisation...
tonight, we had dinner at shimbashi soba at paragon. shimbashi soba is actually part of the fiesta chain of resturants which houses kuriya fine dining and ichiban boshi -very much like the japanese version of the tung lok group.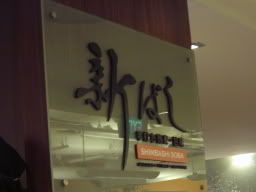 shimbashi is an acquired taste- you either appreciate it or loathe it. in my case, i like it as the soba is hand-prepared with loads of buckwheat goodness.. in fact, they hinge so much importance on the goodness of their soba, there is a open-kitchen concept demonstration where the japanese chef produly displays his expertism- fastidiously twisting and kneading a lump of floury dough, manipulating it to eventually becoming thinly-sliced soba strands.. and i am a sucker for this sort of stuff.. show me how you fry my fish or how you painstakingly prepare my noodles and i will secretly declare you skilled.
back to the menu,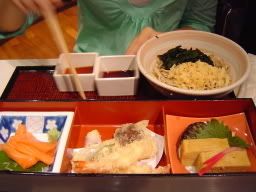 which consisted of chilled soba with tempura flakes and side dishes of sashimi, assorted prawn tempura and baked omelette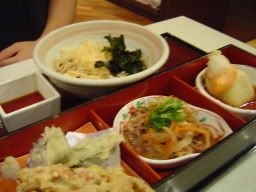 chilled soba with soft-shell crab, stir-fried beef and salmon with agedashi tofu.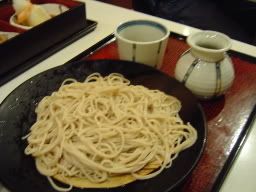 jimmy zen-fied his order with plain chilled soba- also known as 'siero'

i had the nabeyaki udon. yup safe choice but hmm.. i kind of like the sushi tei's version better. their broth is sweeter and definitely more agreeble on the tastebuds..yikes, i got to stop myself from referencing sushi tei. it was great that there was so much sharing around and "nah, try this.. "

yesterday, i met up with muhd for lunch in school and as we were running short of time, we lunched at kopitiam's



giving my sorrowful tastebuds a break from the usual homemade noodles, i did 'adventurous' and ordered the teppanyaki egg wrapped rice with chicken.. vedict: it was egg-cellently egg-ecuted! this dish scores for its great blend of savoury sweetness and clayplate-pipping goodness. yumyummm



were we lucky or what as muhd's chicken tikka was another to salivate over. usually, i stay away from chicken that colour as i have not many good experiences but the chicken was in fact tender and flavourful, a befitting compliment to the bryani.




sheesh,i really feel that kopitiam should be paying me advertisement fees on my blog! haha.