newlook again.
ech, my previous blog skin was really irritating me so i spent the entire afternoon creating this. might look the same but you have no idea how much time i spent in looking and comtrusting the "columns" but i do like the way it looks now!

blue ginger.
mum and i decided to perakanize lunch at blue ginger's just off tanjong pagar road.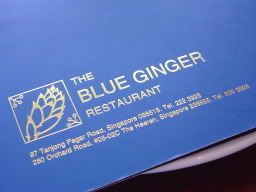 touted as "singapore's most elegant Peranakan restaurant" by new york times, blue ginger was doing well on a tuesday afternoon. the first floor was actually filled but a kind-looking attentive manager immediately sat us down on the second floor by the window. good service- check.
we had bakwan kepeting- a traditonal peranakan/ indonesian meatball soup. unlike prepacked suermarket meatballs, the 'bakwans' (pork and crab meat meatballs) were pleasantly chewy and bouncy.. while the soup bore an amiable touch of lightness, thus proving to be a good entree to extremely flavourful mains.. apparently jimmy said that in indonesia, you could find bakwans as big as a tennis ball -shudder.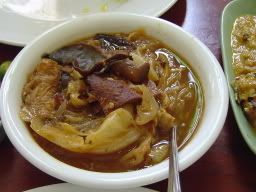 chap chye.. was chap- chy-ish. normal nonya vegetable dish that was suppose to make us feel less guilty during lunch.. haha
ayam panggang "Blue Ginger" which was grilled, boneless, chicken thigh and drumstick with a mild coconut-milk sauce. i enjoyed this dish as the coconut-milk-conocted gravy was fragrant yet not overwhelmingly so thus masking the delicious grilled flavour.
though we skipped dessert, mum and i had a good chuckle at the sight of our next-table caucasian man and the misgivings about his durian chendol.