mellow midweek.
breakfast series continues at coffee bean-
but today i decided to -sigh- forgo my usual cranberry muffin and had the blueberry muffin instead. the blueberry muffin is slightly drier than its cranberry equal but no major damages there. for the first time, i tried the "big ben" with mum and it was really tasty too. think herbed cheese melted all over eggs, ham and toast. watch the drool, honey!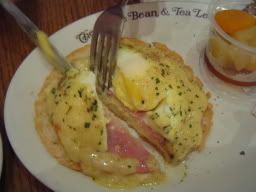 of course the highlight of my was aizhen and zhus' smu debut!
for people-watching purposes, we lunched at kopitiam and ultimately ended lunch with durian mount fuji (darr is so cringging right now) .. it is basically ice kachang with laced with durian puree and topped of with durian ice cream. i can imagine this to be an exchange student's worst nightmare.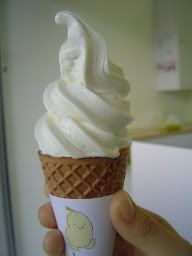 oh did i mention i tried soy bean ice cream after blue ginger lunch? i like it.. i know soy bean ice cream sounds just about as appetizing as say, tofu creme brulee?! which by the way, i apologise if it actually exists.. but the soy bean ice cream was creamily delightful with a good balance of soy bean flavour.. sometimes i cannot believe i am falling for the gimmicks of all these pseudo-healthy desserts.. low-fat, fat-free, no cholestral.. imagine what it would be like if i actually had the real thing. probably festering six feet under.