lazy sunday.
lazy gourmet at shaw centre scores my vote for
. best croissant in town (and by town, i mean singapore)
. best place to go icognito for sunday brunch
. best place to fill up a night's worth of after-eh-hem
at this point in time, i am feeling the dilemma- part of me wants to keep this place my secret, my sunday sanctuary but sigh, they really do deserve a mention afterall ... part of the les amis group of resturants, more like a deli rather than resturant, lazy gourmet does not just sell ambience. they sell FOOD and i must say they are pretty good at what they are doing!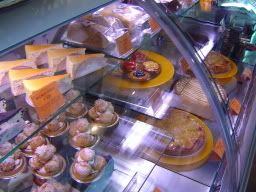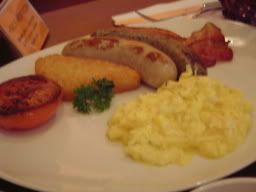 featured above right is the 'Lazy Gourmet' set which comprises of either sunny-side-up or scrambled eggs, sausages, bacon, grilled tomato, mushrooms, hash browns & a basket of toasts; orange juice; regular coffee or tea .. sheesh, aren't you full just listening to me .. haha. jimmy and philip (his friend) both ordered this .. well, i would only recommend this if you have someone to share with you .. for a heart-clogging-good-time.. shhh.
the continental set which features butter croissants! chocolate croissants! almond croissants! just typing about lazy gourmet's croissants makes my mouth water ... i am not going to type about it for no words can do them justice. go go go try them out .. NOW! i swear you could never look at croissants the same way again.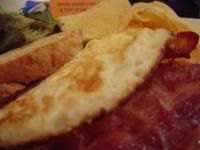 i clearly should not have order my club sandwich.. knowing how i was going to make my way through more than half of mum's croissant basket. but on the other hand, with bacon, egg, tomatoes and crisps on the side- this is a great fill-me-up!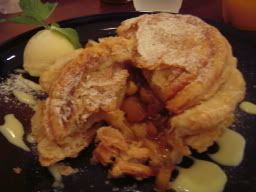 yang ordered the baked apple tart with vanilla ice cream (yes for brunch..) and she said this tasted marvellous. i appreciate the fact that the folks at lazy gourmet did not just chuck us some frozen dessert and cheap ice cream, like what some pretentious resturants are fond of doing.
lazy gourmet? a great wake-up call.