a real entry.
i have not blogged properly for the longest time and i think my blog suffers from an identity crisis. is this a food blog? am i a flogger? i kind of prefer to think of myself as a blogger who blogs TOO MUCH about food. haha.
now if you think i am crazy about ebay, wait till you hear about my mum's friend who BOUGHT a MAC laptop so that she could surf at her country club.
on another note altogether, i have just finished harry potter and the half-blood prince. i think the potter magic is gone. after going through 600 over pages, the book ended on a 'huh' note. i wonder why jk rowling does not want to keep to writing shorter stories .. many a times, i find the story going off track and basically out of focus. not a cliff-hanger, i felt that the book was trying to hard to create twists. not forgetting how everything is starting to sound like a bad korean drama with key characters dying and bad blood brewing. how disppointing.
my birthday went along quietly- just the way i wanted it. in fact, my younger sister actually forgot about it (yeap after the whole roast beef dinner!?). amazing how i received well-wishers from those i would never have expected.. and to the well-wishers (in order of receival): toon, shafiq, waiii, diana, douglas, denn, ade, mingxi, aizhen, mingzheng, muhd, ziang, edward yap, nicole, seng
-thank you.
i met up with two old friends toon and mingxi for lunch at crystal jade macau yesterday. it was my first time at the macau-themed outlet at bugis junction. the menu is slightly different and i think i would want to return just to try out their other dishes.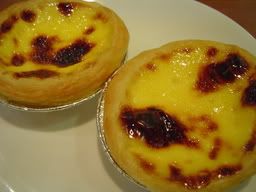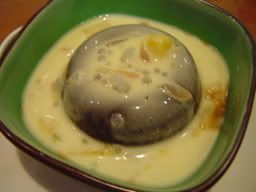 and fyi, the murky pool below happens to be macoroni with fried egg, luncheon meat and pork chop. a mouthful of comfort food i must say.
i was re-reading my old glamour magazines yesterday when i chanced a small section on nigella lawson, titled 5 things you didn't know about me. sadly and surprisingly so, she said that her mother suffered from am eating disorder her entire life. but when told she had cancer and only weeks to live, she decidedly to immerse herself in indulgence and ate heartedly for the first time. -sigh.
i think this is a similar sentiment to alot of us and i have found many around me actually answering those thoughts like "if i were to die tomorrow, i would order a plate of char kway teow with extra lard". aren't we all alike?