strawberry scented.
no i am not suffering from work blues. no i really enjoy being micromanaged. no i am so looking forward to another week of hum-drum-bored-o-mania work. i am suffering from the disillusioned disease.
last weekend
was spent at: chomp chomp. the apotheca. sushi tei. maxwell food centre. hue. borders. orchard national library. wheelock place. takashimaya. scotts.
doing: shopping. littering the streets of orchard road.
having: tong heng egg tart. steamboat at home. corica apple strudel. nasi padang. lim kee goreng pisang. dim sum. curry puff.
but the best part of my weekend would have to be the three new spanking new books i got at ridiculously low prices at paragon!
cuban heels by emily barr
the painter by william devenport
a quiver full of arrows by jeffrey archer
all for an average of 5 bucks per book.. i mean like HELLO!? each book costs less then a starbucks frappucino.. WHAT A DEAL!?!!
i miss my weekend. it was flawless.
food for the belly. jie bought this for jimmy though mum and i both snagged a bite each. erm well, i cannot really give an opinion since i do happen to be an ardent fan of old chang kee's curry puff..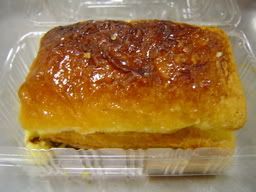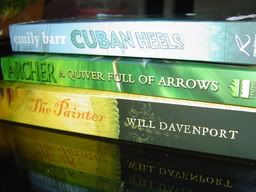 and food for the soul.
lunch with mum at pan pacific hotel's zambuca last friday.
it was like fine dining at an italian rsturant, minus the wine and pasta. haha.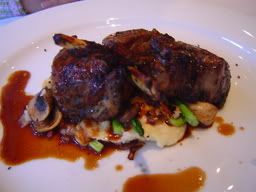 you know you are in a seriously classy resturant when there is no salt and pepper to be found on the table and you can only get some pepper for your soup when the waiter comes over to ground it himself. the lamb rack which mum had- what can i say about, you either love it or hate it.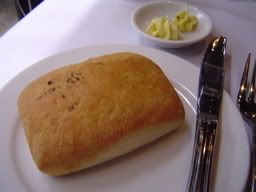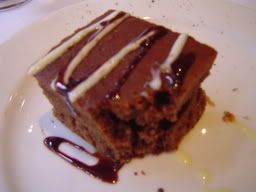 it was a pleasant lunch, not very authentic italian as you can probably tell.
at the bentley showroom, now stop drooling all over your keyboard.
yesterday we celebrated father's day at maxwell food centre and i call it 'celebrate' because we let him choose the venue and he said, "hawker centre" (arh, the perils of living with daughters who insist on lazy gourmet) .. hey i love hawker centres- you get the yummiest fill-my-belly food but after eating in insipid places more often than not, you do tend to treat yourself to something different on sundays ...
anyway, we ordered dim sum, indulged in goreng pisang (from the famous somerset food kiosk) and dad was perspiring like a loose tap over his fish porridge..*no wonder he does not need light sauce* sometimes i look at him and wonder why he likes to torture himself.. but to him, it is really "for the food". amazing.
oh yesh, if you see me sniffing my hands and looking like a fool, it is because i have slathered the body shop strawberry lotion and it sures smells heavenly.
it is time to bid for subjects for year 2 -YEAR2?! i seriously cannot believe i am no longer a freshman.. anyway, at least i am on to a good start, i have the same Technology and World Change module as ade..