shanghai relish.
we had brunch here a couple of weeks ago.. and i almost forgot to post these pictures! the lesser-known cousin of crystal jade family, hu cui has a beautiful architectural interior that would please any chinois- aficionado.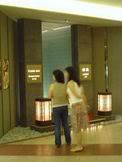 as you can probably tell, the entrance, decor and even the table setting possess a modern take on the traditional chinese setting. you had no idea how weird out looks i got by waiters who were setting up our table.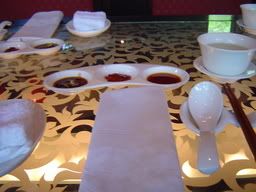 the above dish is shrimp wrapped beancurd skin. if one thing is to be noted, it is that the names of chinese dishes usually says it all. haha. but anyway, the juicy-crunchy shrimp paired with crisp beancurd skin is a definate treat for your tastebuds!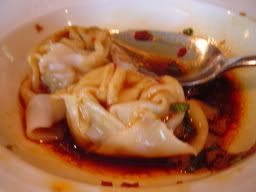 jie's favourite wanton in chili oil is a mix of sin and pleasure. "meat oil meat oil" though items like wanton or dumpling are commonly found in hawker centres or haute cuisine, hu cui manages to draw out a certain x-factor within this bundle of goodness.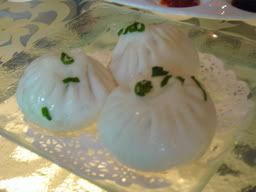 darling of my palate is the xian bao- which is actually meat-stuffed bao that has been pan-fried- just think juicy juicy meat and oily oily bun. and our adventurous dish of the day, huang qiao shao bing, whose flaky-pastriness was a pleasant surprise.
overall, shanghainese food could be described as generic. they use the same meat stuffing for jiaozi, xiaolongbao, wanton and shuijiao and their sweet fillings do not differ greatly too. but the thing about hu cui is definately its overall atmosphere. though the entrance looks eerily intimidating, you will be surprised by how relaxed and affordable it really is. though the dishes are easily found in the other shanghainese resturant, this boutique resturant here is thanfully free of the chaos and hecticness, evidently present in its better-known compatriots.
i likey.