Less than 24 hours ago, we celebrated my sister's birthday at Open Door Policy (ODP). Growing up, to say I put my eider sister on a pedestal is an understatement. She was the pretty one growing up (my stick straight hair was a limp bob next to her Shirley temple curls); she had excellent grades (my parents probably gave up on my academic abilities); she was and still is the apple of my grandma's eye (sigh, I have grandma issues). Even though we now lead pretty different lives (and I'm still flying below her radar), I'm glad as hell we have grown closer throughout the years.
ODP has a rather strict seating policy for dinner - they have 3 seatings at 6pm ,7pm and 8pm; and I received this SMS a couple of hours before our 7pm reservation.
A gentle reminder of your reservation at ODP tonight. Please remember that we use a standard seating time of 2 hours to enable as many people as possible to enjoy our food. Please contact us at +65 6221 9307 if there are any changes to your reservation.

Best regards,
Open Door Policy
There is usually nothing "gentle" about these reminders and back in those good old (corporate) days, I myself am usually half-snarky when I use this word in my emails. Hoho.
But all you need to do is pop by and physically witness why they have to enforce such a regimental rule. The place enjoyed roaring business on a Sunday evening and this meant chair-to-chair (or elbow-to-elbow, if you were sitting at the counter overlooking the open kitchen) cramness in a tiny shophouse.
Like the restaurant space, ODP's menu wasn't overly expansive but we found many likable things to order.
halloumi cheese with olives, white anchovies and crusty bread
We started off with some cheese and bread in the form of a handsome toss up, consisting of grilled halloumi cheese, black olives, white anchovies and crusty bread chunks.
puff pastry pizzetta, lamb confit and greek salad garnish
Next up, a towering display of rocket, feta cheese and the crazy tender lamb confit atop a puff pastry "pizza"
For our mains, we covered 4 legs, 2 legs, wish-I-had legs and I-have-no-legs-but-I-can-stem(stand).
For some reason, my dad was craving for steak but since ODP didn't have steak, we order beef cheeks instead. Braised for 48 hours, the beef cheek was a moreish, marble-y chunk that could easily glide off your fork and into (I hope) your mouth. The steak was never again mentioned.
This was a sizable serving of sea bass resting over a bed of roasted artichoke and potatoes. Be warned, it isn't Chilean sea bass though, so don't expect an oily, cod-like slab ala Ember; to be honest, if you wanted a dish like Ember's Chilean sea bass, you should er, visit Ember.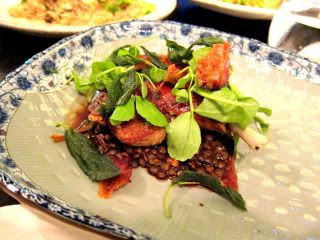 confit duck leg, puy lentils, sage and smoked bacon
Kw's pick. Shreddy, tender goodness.
wild mushroom risotto with truffle crumbs
Omg, this was a heady dream of al dente rice pearls!
For desserts, the chocolate and pistachio soufflé sounded interesting but I was too full to insist on ordering it.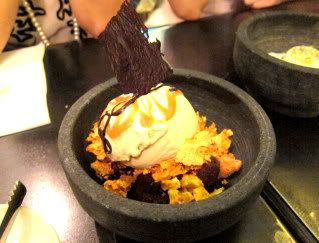 the ice cream 'why just sunday'
Vanilla ice cream, chocolate cake, caramel and honeycomb… OPS's sundae sounded like something we could have any day of the week indeed. However, the sad dry cake could not be redeemed by the vanilla ice cream and caramel; and speaking of their ice cream, it tasted neither like cheap-vanilla-essence or vanilla bean-infused (both of which would have been acceptable to me).
lime panna cotta with coconut sago, cashew nuts and mint
Because Mum can't resist anything with coconut and the birthday girl wanted panna cotta. ODP's lime panna cotta bore an unorthodox Asian twist on an Italian classic. The panna cotta was smooth but not the smoothest I have had and overall, it felt as if there were too many people talking over one another in a small room.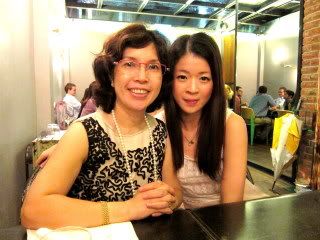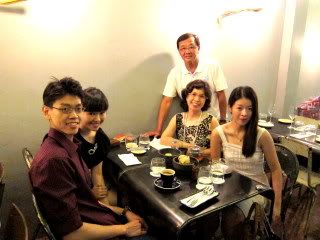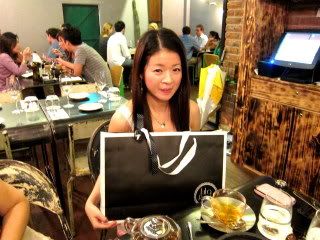 Though desserts were sort of a letdown, the rest of our meal at ODP was pretty good.
HAPPY BIRTHDAY, JIE!