Hello folks, how is your weekend so far?
We are only halfway through but I have already eaten too much for my own good, beginning with an 8-course food tasting dinner at Shangri La.
Since I won't have a chance to eat that evening, much less take pictures of the dishes, I might as well as write about the meal now.
Apart from the soup and a couple of itty bitty things, we were peachy pleased with most of the dishes that Shang Palace's Chef Steven Ng cranked out.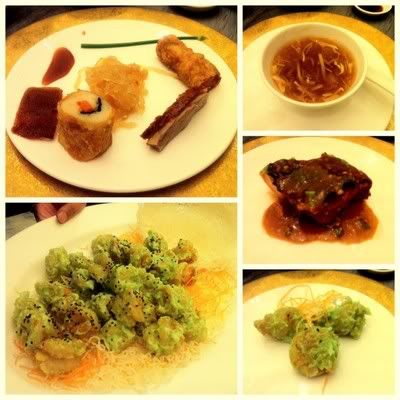 For our appetizers, we could choose 5 items from a selection of banquet regulars. We chose things we would have wanted to eat as guests, namely Barbecued Suckling Pig, Roast Duck, Five Spice Roll, Seafood Roll, and Jellyfish. No prawn salad and cheapo mayo, thank you very much. Most of the stuff were pretty good but the suckling pig, with its brittle-crisp skin, was the star of the platter.
Instead of Shark's Fin Soup, we opted for Braised Fish Maw with Shredded Abalone, Sea Cucumber and Conpoy. Unfortunately, the braised fish maw soup was bland and watery (sorry chef!); we did feedback so to the chef, so hopefully that wouldn't be the case on the actual evening.
Next up was the fish dish - Baked Sea Perch with Teriyaki Sauce. The sea perch tasted wayyy better than it looked (a sauce-drenched swamp of a thing). It was almost as if we were having cod but relieved from the oiliness that made one feel nausea after finishing such a sizable chunk.
Quite frankly, one of the reasons why I was sold on this menu was because of the Deep-fried Golden Prawns with Wasabi Mayonnaise. While what we had weren't the prettiest prawns, they were good enough for second helpings.
Something that we have never had before was the Crispy Mongolian Chicken "Pik Fong Tong" Style. The chicken was alright but damn, almond silvers and dried chilies were moreish! You could serve me these at any dinner banquet and I would be as happy as an exchange student whose been tasked with cup noodles duty.
Next up was the Braised Baby Abalone with Seasonal Greens and Wolfberries. It was alright - the dads like it so world peace ensues. Me thinks some of the guests would be placated by the presence of a whole abalone.
My mum is a person of few demands but she was adamant that we didn't serve Ee Fu Noodles. Trust me, I am more than happy to accommodate this request as i can't can't can't stand eew fu no-odles. My love was fried rice runs deep like the three gorges dam so I was in Fried Rice Paradise while tucking into the Shang Palace Fried Rice.
We couldn't decide on what to have for dessert so Stephanie, our wedding coordinator, very kindly arranged for us to have two to sample.
The Chilled Cream of Mango with Strawberries, Pomelo and Sago was light and refreshing but I was seriously impressed with the Mashed Yam Paste (orh née). I, who never cared for orh née, downed two bowls of this thick but smooth treat, much to the dismay of the Health Promotion Board. It was suitably sweet and a delicious molten-ish mess of mashed pumpkin/yam, gingko nuts and coconut milk.
Hmm, I think it would be quite impressive if Shangri La can uphold the overall standard on the actual evening.
I was quite sorry that there was going to be a buffet lunch waiting for me the next day but at the same time, mad excited that Diana and I were going to have our bridal shower lunch at Basilico the next day.