If you can't get a reservation at French Laundry, Bouchon Bistro AND Ad Hoc, all is not lost for you! Breathe, inhale, exhale.
You can still make a Keller pilgrimage to
Bouchon Bakery
and seek miraculous healing from the heavenly pastry porn of buttery brown vienoiseries, tempting tarts, mega macarons and logs of glory aka éclairs.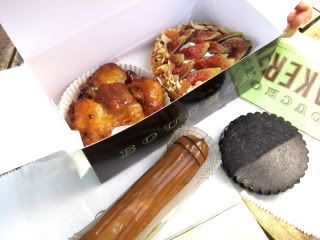 We didn't have any desserts as Bouchon Bistro as I had my eye on one too many thingsies at Bouchon Bakery. There is usually always a queue at the tiny bakery though perhaps a few lull periods every now and then. Fortunately, we only had to stand in line for about 10 minutes but unfortunately, on hindsight, I probably would not have even bothered queuing if I knew what I was getting myself into.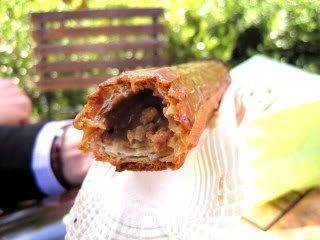 The coffee éclair was a soft pâte a choux pipped with mild coffee-flavored crème patissière. I have never been super hot on eclairs and sadly, this didn't make a convert out of me.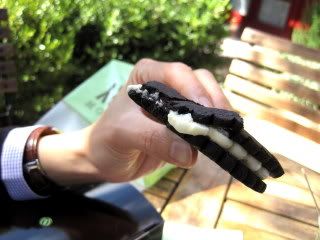 The Thomas Keller Oreo aka TKO is made of two chocolate sable dough sandwiched with sweet white chocolate ganache filling. The humble Oreo cookie is said to be one of Chef Thomas Keller's favourite snacks, which made me wonder why anyone would want to re-interpret something that is supposed to be their all time
numero uno
favourite snack?
Do not question GOD.
Whoops.
I got to say, apart from the pretty cookie cutter shape, the TKO was really nothing special. Sorry.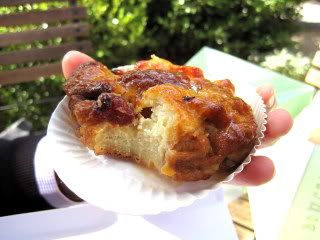 I had big beautiful hopes for the brioche bread pudding (after all brioche and pudding are two of the most beautiful words across continents, no?) but that turned out to be a brick-thumping disappointment. Perhaps a quick nuke in the microwave would have helped shape its moist wooziness but I usually don't travel with a portable microwave so its (lack of) deliciousness was lost on me.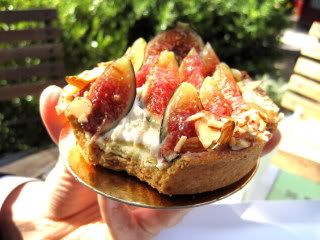 A satisfyingly buttery crust crowned with the freshest sweetest figs, only the fresh fig tart was worth spending the afternoon in food coma.
Compared to the bakeries and pastisseries in Tokyo (and possibly Paris), Bouchon Bakery was just mediocre. I might sound a little harsh but with all that hoopla idol worship around Keller and his bakery, I wasn't about to settle for anything less than 'phwoar'.