On my last day in London, I finally met up with an old friend, Aizhen and her other half, Gavin, who took Yang and I to a traditionally, un-London meal at
Wahaca
. For someone who didn't know the difference between taquitos and tostadas, I was caught off by how much I loved this meal.
This is my er, third time having Mexican food but by far, the first time I actually enjoyed it - so much so that when the ash cloud threatened to shut down Heathrow, the first thought that came to my mind was, Ash Cloud = Covent Garden + Mexican food. My priorities are spot-on, I know. Like a bucket of cold water raining down on my Cinco de Mayo, I was naturally kind of crushed when that didn't happen.
The restaurant doesn't take reservations and at 2:30 pm, we waited for about 25 minutes before being "buzzed" to a table. Wahaca had just launched their new summer menu and it was a fatally delicious-sounding menu. We left the ordering mostly to Gavin which was a wise decision as left to me, I would have probably ordered one of everything. It's care and share time, folks!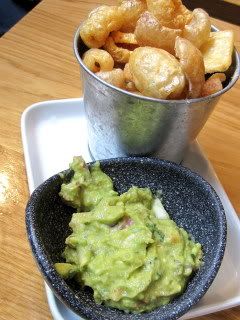 During this time, we found ourselves in the good company of airy-light pork scratchings and guacamole, and later, tomato salsa with restaurant-cooked tortilla chips. While eating, a revelation the size of Beyonce's engagement ring hit me,
Hey, this is gooood … serious "freshly-made" stuff… doesn't feel like it was poured out of a can or supermarket value-pack!
Holy guacamoley indeedo.
And thus began the journey of a reckless abandonment…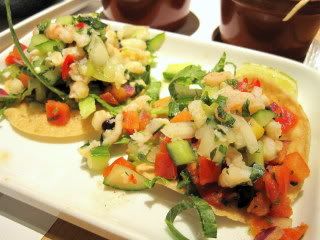 Their MSC* cerviche tostadas were pretty incredible. Toasted crisp mini discs corn tortillas, heaped with a bounty of shrimp and scallops cerviche, habaneros, lime, mint and tomato salsa.
* MSC – certified sustainable fishing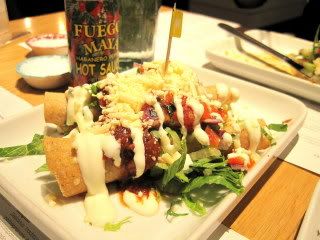 Also awesome were the taquitos, cigar-shaped corn tortillas, stuffed with marinated chicken, drizzled with crema and topped with shredded lettuce, Lancashire cheese and tomato salsa. Cue You-had-me-at-cliché-Jerry-Maguire-movie-line, please.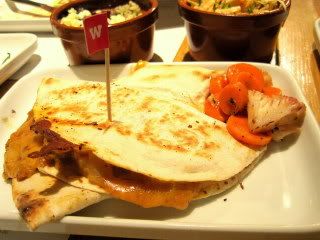 Something more familiar were the quesadillas, toasted tortillas filled with melted cheese and chipotle chicken. But just because there are bastardised versions out there doesn't mean it had outstayed its welcome.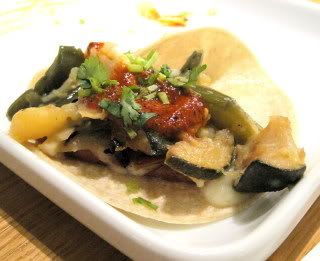 One of the 'Street Food Specials' we had was their grilled cactus taco with courgette and cheese. Cactus, unlike alot of alien stuff, doesn't taste like chicken; it tasted EVEN better given the Wahaca-treatment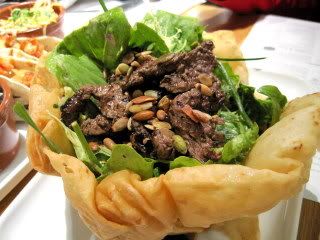 The Sonora salad is probably the Superbowl of all salads I've had so far – diced avocado, pumpkin seeds, beans, British organic spelt and cos lettuce in a tortilla shell with chargrilled steak. I think I was getting a little depressed about leaving London the next day and subconsciously ate my sorrows through the giga-calorific deep-fried tortilla bowl. Not my finest moment but no regrets as well.
At the end of the meal, we ran an unregulated election and voted for our favourite dish. Unlike the recent British elections, the clear winner was the Baja-California fish tacos, which sounds a lot like a coalition dish though with clear motives – bang-on flavour and yumminess (lame word, I know).
Breadcrumbed, then deep-fried goujons (like fish fingers mmm) in tacos, slathered with chipotle mayonnaise and tomato salsa. Joining them were mini ramekins of black beans rice and spicy slaw.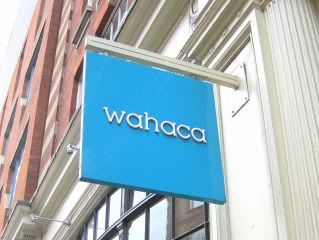 Unsurprisingly, the crowds didn't thin out in the late afternoon and there was a pleasant buzz throughout our meal. In tune with the culture's warm disposition , we had great pre-, during and post-meal service. Winner of Masterchef 2005, Thomasina Miers's take on Mexican market fooding is one place I'm definitely coming back to.