Google restaurant guide for Brussels and chances are they will recommend
Aux Armes de Bruxelles
for traditional Belgian cuisine. The thing about eating at an institution is tradition comes at a price; and when one has been in the business since 1921, "exciting" is hardly the first word one would use to describe this institution.
Right in the heart of a tourist trap (think our Boat Quay), Aux Armes de Bruxelles clings onto its roots, serving up hearty bruxellois fare. Despite the vintage Art Nouveau interior and probably starched uniforms, the ambience was surprisingly relaxed and non-chi-chi.
A few round bread buns, better off filling up a bra, were left largely untouched till I needed something to soak up my beef stew.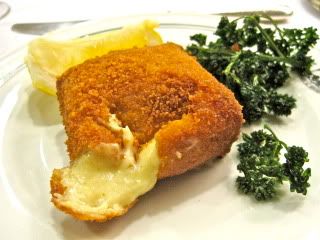 Cold from the heavy drizzle and winds, the 3-course set lunch sounded like a good idea to build up some insulatation.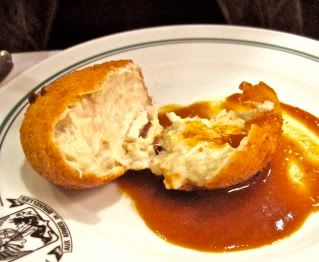 It is hard to fault the couple of croquettes. Both the cheese and chicken croquettes bore thin but sturdy deep-fried armours encasing rich oomphy insides.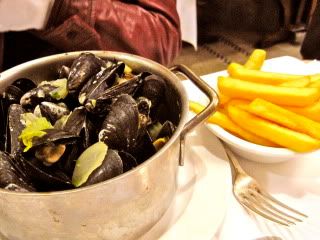 The brasserie is known for their moules and frites but like the Manneken Pis, they were anti-climaxically smalllll – now please don't think dirty. And we all know how mini mussels deprive one of briny succulence it so rightfully deserves. The freshly fried fries were good though.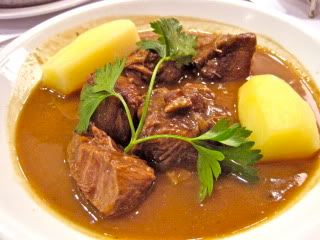 The carbonnades de boeuf à la Gueuze (beef carbonnade) is perfect rainy day food. However it was half-gratifying as some chunks of the beef were heart-achingly tender but others threatened to leave sinewy bits in your teeth.
Yang loved her chocolate mousse which was pretty good though it was on the hole-lier than thou side. Then again, it is chocolate so I find it very very to resist. I have never ordered crème caramel but I tend to surprise myself on holidays. Smooth but shy of lusciously soft, I had no problems finishing it up but it is probably not a dessert I would go for again.
So there you have it. Our meal at Aux Armes de Bruxelles wasn't tragically bad but I would only recommend it if you are seeking out a safe and potentially boring traditional Belgian meal.