I realise I really enjoy fine dining during lunch not just for the remarkable value you get sometimes, but because the indulgence is something I can savour throughout the rest of the day and not have to lug into bed with.
I finally met up with M for the catch-up of all catch-up lunches at OTTO Ristorante. With a glass of Procesco and a table that had the view of the restaurant, I was all ready for Excesses101.
I love OTTO's bread basket parade. A lined basket consisting of sweet onion foccacia, raisin, walnut and plain white loaves...
Excuse me, Mister, you need to be seated RIGHT next to me.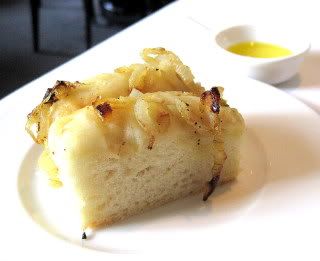 Behold moist spongy bread! I know I've pretty much abused the word "spongy" on many bread occasions but these sweet-onions-topped babies were moist AND spongy. I was flipping hungry so I practically wolfed down the sweet onion slices in seconds. Come to think of it, I would have probably done the same even if I weren't "flipping hungry". That's how good the bread was.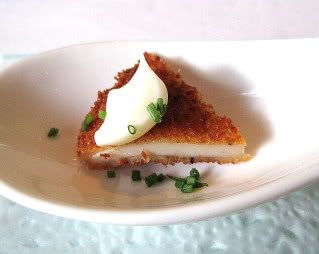 We had a chicken-and-cheese amuse that was nothing more than fried chicken (the boring kind, not the mofo-I'll-sell-you-my-kidney kind) and a goop of cheese. It didn't amuse
or ah-muse
but it placated my hunger for three minutes. Cue more sweet onion foccacia.
Though we both had the set lunch, I swoped my appetizer and Mia swoped her main course. it was nice of the resturant to do this for a minimal surcharge (sans truffles).
The appetizers on the lunch menu were a little uninspiring so I picked the scrambled eggs and blue swimmer crab from the White Truffle Menu instead.
Chef Pavanello wheeled over a truffle that nestled in uncooked rice and a digital weighing scale, which made me excited but anxious at the same time. You can tell that this is not normally how I roll. Oh and it doesn't help that since young, the TAF-CLUB-potential me has always had a phobia of weighing scales.
Chef Pavanello first took the truffle out of its crib, weighed it, then shaved some truffle silvers (2 grams worth to be exact) onto my crab-and-egg appetizer, before weighing it again.
All that brouhaha for a once-soil-covered funghi.
Well, that "brouhaha" added incredible texture and flavour to the creamy mellow scrambled eggs and sweet fresh blue swimmer crab. The velvety smooth eggs weren't about to challenge my love for deep fried omelette anytime soon but it taught me that scrambled eggs transcends "time" barriers.
And for dinner, I would like my scrambled eggs topped with bone marrow critters and 25 year old balsimic vinegar.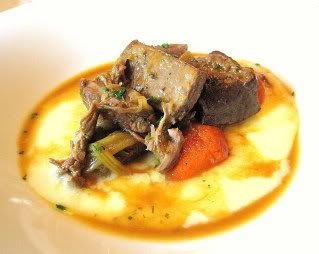 OTTO was experiencing Full House Friday so our mains did take a while to arrive.
For my mains, I first chose the stewed veal morsel, hoping for some comfort flavours and teething-baby textures.
The bed of soft polenta was gummy. Is that the way polenta is supposed to be? If yes, OTTO did a great job; if no, I asked for "teething-baby textures", not baby food!
The words "stewed" and "veal" probably won't stir up thought of dry tough meat but those were some of the cuts I got. A little word with the kitchen and my plate was coolly whisked away, bestowed with the promise of a delicious salmon.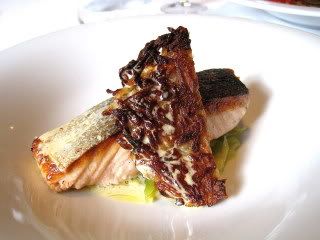 The pan-roasted Scottish salmon came with a delightfully crisp rosti and leeks braised with white-wine-sauce. You know how most cooked salmon turn out to be parched bricks of former glory? Well, not this salmon. I got to admit after the veal, I wasn't expecting much from the salmon so I was really pleased with my well-done-but-juicy slab.
Desset was an Amaretto semifreddo topped with tuile that I picked off and ate first (you would have done the same, wouldn't you?). Semifreddo is something that I need to get my head around because my brain would think 'nougat glace' or 'ice cream bar' but my tongue would inevitably be surprised by the un-chilledness of the dessert.
The semifreddo was nice in a light milky way. The menu said 'coffee sauce' but I tasted chocolate instead so I will take the liberty of scribbling down the flavour as detected by my tastebuds.
Encore to Friday Excesses!
OTTO Ristorante
Red Dot Traffic Building
28 Maxwell Road #01-02
Tel: 6227 6819