Daydreaming is a dangerous activity. It takes up too much time and virtually unproductive unless you act on it. But daydreaming makes me feel good and the best part is, it is FOC - free of charge and calories.
These days, I've been daydreaming of autumn – red-orangey-yellow leaves and Fall/Winter fashion. Next year I will spend autumn in a real place that celebrates the arrival of fall with a new seasonal menu.
But before that I will have dinner that reminds me of fall.
The next best thing to my meal and service was the Norman Cherner chair I sat on. Yes, the one which looks like it's got its hands on its hips. I know you got my back, hon.
A nod to autmn colours, we had a beetroot salad for starters. The tasty salad had beetroot, rocket, citrus (whassit clementine?), goat cheese and toasted pinenuts. Yay for Virtuous Food! Don't worry I'm not about to set up any self-help workshops.
For our mains, we ordered from the Special Chalkboard menu. We had to – after all that trouble of lugging over that chalkboard and a full recital of the dinner specials, how could we tell the poor waitress we were going to dismiss her efforts and order from the regular menu?
TADAH! Roasted lamb loin with sautéed French beans, tomatoes and mushrooms.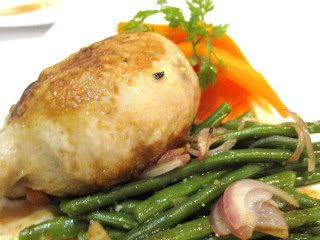 And I had a roasted quail that was stuffed with chestnut risotto.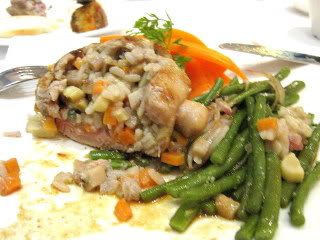 I'm always game for such birds and it's amazing how the cook kept the quail juicy-tender. The risotto was on the chewy side and coupled with the diced carrots and corn, it felt like a spoonful of autumn in every bite.
Chalk's sticky date pudding had its claws in us even before we finished reading the dessert menu. I tried not to benchmark Chalk's sticky date pudding to the Grand Dame's - Marmalde Pantry. Sure, Marmalade has an exemplary sticky date pudding but why would I want to have the exact same pud at Chalk?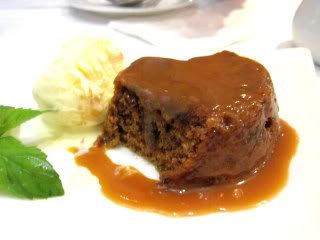 But comparisons would have to be made and Chalk's pud was a moister, less-spongy version, served with a scoop of robust ginger ice cream.
Mmm, I will have that last bite.
Like Bedrock, I didn't like my first visit to Chalk. Everything that could have gone wrong did go wrong but the second visit charmed the harem pants out of me.
Chalk @ Mount Sophia
#01-03 11 Mount Sophia Road
Tel: 6883 2120