My first experience at Bedrock veered towards Yabbadaba-don't but after Beacon, I was kind of interested in trying out this urban steakhouse we have in Singapore. As she had her Friday off, my sister and her friend Joyce joined me for lunch at Bedrock.
Oh by way, just in case you thought I was loafing during office hours ... TSK TSK how could you?! I'm pleased to announce that the weekends have come early for me as I need to clear annual leave. It's right there in my contract, in fine font-6 print right under Terms and Conditions, I swear
!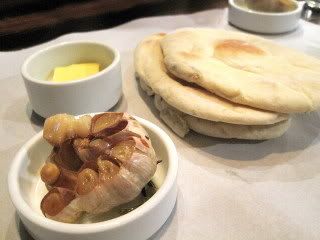 First up, some homemade flat bread with roasted garlic and french salted butter that you could just smear all over the bread as it was served warm. Psst restauranteurs, here's a cheap trick to win over our hearts: serve us warm bread and watch us coo over you like a freshly-minted Grandma.
There was good contrast in the starters that we picked.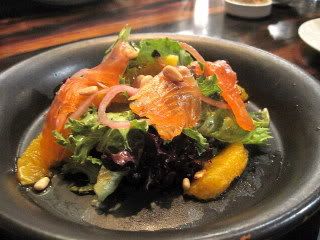 We did light and tangy with a whisky trout Salad, which had mesclun greens, house cured ocean trout, pinenuts, orange slices and laphroaig (wassit?!) single malt dressing. Salad equals Virtuous Food plus it was tasty so the salad scores.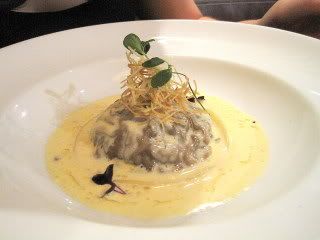 Then we went heavy and head over heels in love with the porcini ravioli, a ravioli stuffed with porcini mushroom with robust truffle cream sauce.
For mains, there was a choice between the jamon crusted pork tenderloin, chopped steak & bacon burger, steak frites and seabass.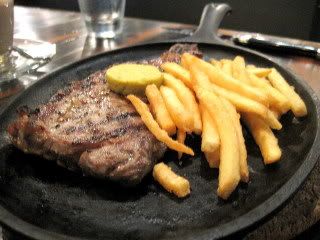 Bedrock did justice to their steakhouse calling with a beautiful medium rare steak frites, paired with café de paris butter and skinny fries.
The pan-seared crispy skin seabass came with its own smear campaign: an olive tapenade. It was ... decent but nowhere as fatty-fishy raveworthy as Ember's. Note to self: try the jamon crusted pork tenderloin next.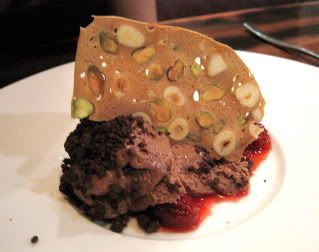 For our sweet endings, Yang and Joyce went for the Expresso Chocolate Bavarois, chocolate mousse topped with smashed cookie nibits and a pistachio biscotti-like crisp.
I have a trick-sy relationship with crème brulee - I like my caramelized crown a little thicker and the creme a little runnier; deep dish crème brulees put me off for I like my burnt brulee with just a dollap of crème – so I need enough crust to balance the crème. Does that sound WTF confusing or plain teeth-grittingly compulsive? Both. Well, that's why I hardly order crème brulees.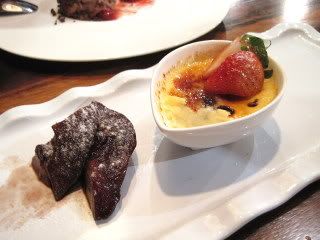 But I was in the mood to take a leap of faith, and I was rewarded with an orange crème brûlée that bore a hint of citrus and poached red wine Nashi pear that kept its slight crunch. Quite lovely indeed.
Service was excellent. The waiter came up to me and said,
you've been here before right?
For a split second, that got me all excited, then I thought well, I ain't some hotshot food blogger with special treatment served on a 3-tier platter so he probably says it to others, with a 50% chance of getting it correct. But even then, I couldn't complain about the service throughout the rest of the meal.

Bedrock Bar & Grill
Pan Pacific Serviced Suites
#01-05, 96 Somerset Road
Tel: +65 6238 0054