Hello from Tokyo! We still have just over a couple of days left and it's been great so far.
On our first day, we wandered into a sushi place at Shinjuku. Well, basically we had reservations at the three Michelin Starred Sushi Mizutani so we thought it would be good to do a few sushi places to get some comparison.
Ougisushi was catageorized under "Unknown Random Sushi Joint". The restaurant was half-filled during lunch time but there was a rather large sushi counter that suggested good things to come.
For starters, we had the kani miso. I've recently developed a liking for this muddy ugly crab appetizer. If you haven't had kani miso before, think of it as rilette but a much muddier-tasting bottom-from-the-sea version. This kani miso consisted of crab guts and meat, and was all yums with a dash of lemon.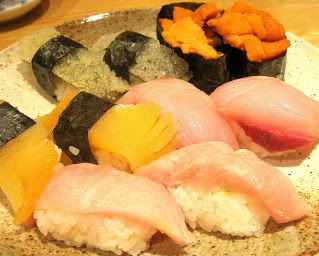 Sussing out the scene at Ougisushi, we ordered just a few sushi and since sushi was relatively cheap, we went for the prenium items such as otoro, komochi konbu (tangle with eggs), mentai kazunoko (hot herring roe), uni and hamachi.
The sushi was surprisingly good. The fish was unquestionably fresh and the rice, though large-ish, was moist and compact, with each grain retaining its individuality.
Best of all, the otoro made me dizzy with happines and at 300 yen a pop, we ordered another round of pleasure, plus hirame (flat fish), akagai (ark shell) and tamago (egg omelette).
Good to know that this was ridiculously near our hotel so if I had a last minute otoro craving to fix, I know where to head to.
Ougi Sushi
At Shinjuku, near Isetan