We celebrated Mr Blumer return to Singapore with a small MadHatter's Dinner Party. But I think the party started even before we got out of the office...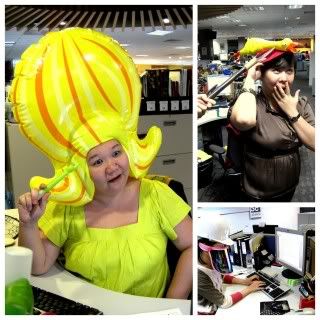 ... and before the alcohol flowed. As you can see, after 6pm, we are quite an excitable bunch of crackpots.
Though Bob was supposedly the Guest of Honour, he prepared dinner. Duh, who dares upstage a guy has two cooking programmes?
Chopping, slicing, blending, grilling ... working up a sweat, he sure works hard for the money.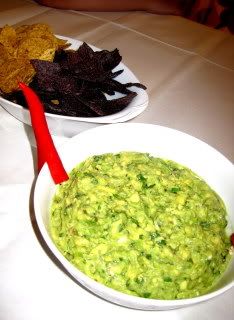 Guacamole with chips kept us going while Bob worked on his pizza.
The pizza was ridiculously good. It was so good, it was sick. Topped with pesto that had been blended with parmigiano cheese and toasted pine nuts, as well as corn sauteed with asparagus, sundried tomatoes and butter, and finally, smoked chicken.
It was so good, it's been more than a week and I still can't imagine having any other pizza.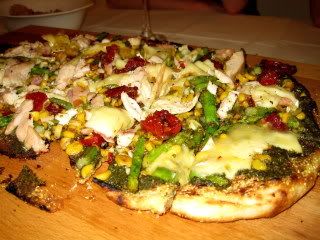 The real magic was in the dough. Chewy yet crispy. I could never quite understand the concept of chewy-crispy till I crossed paths with this pizza. It wasn't like some giant keropok. As soon as I sank my teeth in, the outmost layer almost immediately gave way to a chewy base. It was a fleeting moment of crispness but the sound rang true in my ears.
For dessert, the guy teased us silly with "Macdoodle" fries - twice-baked pound cake with strawberry sauce.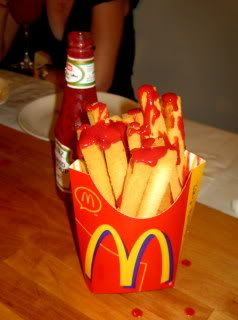 Too cute for words.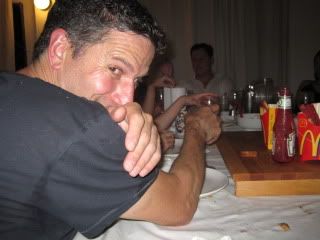 Come back soon, Mr Blumer.