These days, only sushi does it for me. When the opportunity to try out new sushi restaurants came up, I made reservations at Kaiho Sushi at such speed that would put any fastest-finger-first finalist to shame.

Kaiho Sushi is located on the 3rd floor of The Very Dodgy Cuppage Plaza, not the newly renovated Cuppage Terrace. We were entertained by the extremely affable owner / Chef Bernard Tang and I must say this is one unique chef. I told him I was interested in going 'sushi omakase' and while most chefs would have obliged almost-too-willingly, Chef Bernard merely smiled and said,

"Why not just order the sushi mori first and if you want more, we will add on... "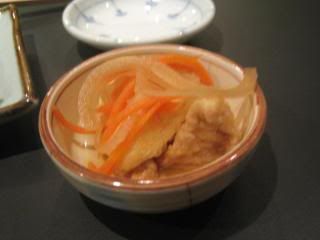 For starters, we had a small dish of fried fish, accompanied by strips of daikon and carrot, dressed in tangy sauce.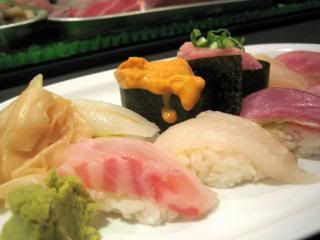 Kaiho Sushi Maori
I'm not sure if everyone gets the same Kaiho Sushi Maori because Chef took our preferences into consideration.
No maguro, thank you very much.
Our 11-piece sushi maori came with otoro, hotate, smelt, hamachi, chutoro, uni, negitoro and unagi.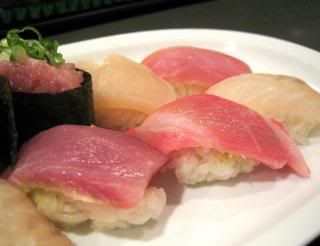 The sushi was on par with some of the other establishments I've visited recently. The uni was the freshest I've had since my trip to Tsujiki. Completely devoid of the metallic-ky aftertaste, it was a lucuious rich molten object.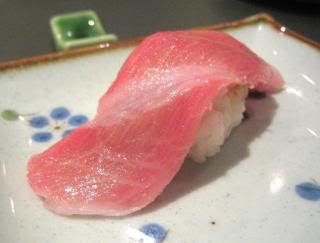 Usually otoro brings out the worst in me as everything I learnt about "caring and sharing" is thrown out of the window; however tonight I was in luck as my friend's indifference to otoro meant I had undivided satisfaction. Ahhh, the milky otoro is defnitely within top 3 items on my Last Things to Eat Before I Die list.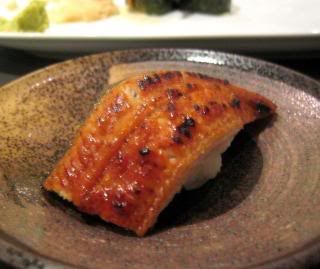 They had to grill a whole slab of unagi just for this sushi. It was worth all that trouble for this nugget of smoky delectation; then again, I wasn't the one slogging over the grill.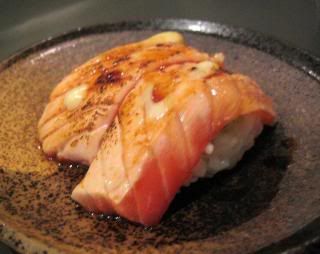 Ever since Tomo, my love for aburi-ed sushi grew. The aburi-ed salmon sushi each received a squirt of Japanese mayonnaise and sweet sauce, and torched on the surface. Marvelous.
Watching the chef handle his blow torch made for a theatrical affair. I think not-very-deep down inside, I have always loved the theatrics of sushi and dessert chefs. Crepe suzettes, anyone? Also, I think we should all consider investing in a blow torch.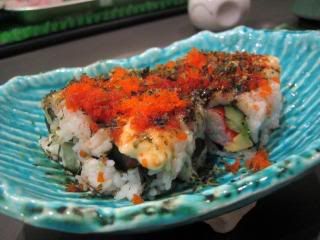 Kaiho's Aburi California Maki was an elaborate affair of tabiko topped on flamed Japanese mayonnaise and sweet sauce, which resulted in a lovely caramelized saltish combination.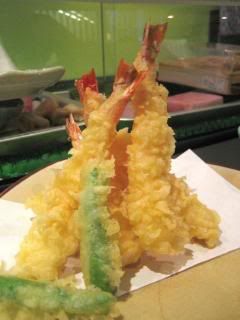 We didn't have too much hot food. I'm someone who favors the unsophisticated parts like cones, crusts, tart shells and tempura batter so I had no issues with the thickish tempura batter of Kaiho's tempura.
Almost -just almost!- stuffed from dinner, we decided to have a final 'fish dish'. Chef had the kitchen prepared something not on the menu -
matsu
mutsu fish, a firm fleshy deep water fish , braised in sweet soya sauce.
It was a lovely slow unharried dinner. As a business student who is about to graduate, I really appreciated the calmness and peacefulness of the meal. At Kaiho, the financial crisis and gloomy job market seemed like a distant memory - all thanks to great company and our warm host Chef Bernard Tang.