eve of the eve.
woke up at seven to follow mum to office to settle accomodation stuff for denmark and chiang mai.
mum took half day off to visit a friend who had brought her son down for medical treatment at mount elizabeth and we ended up having lunch at 'my mum's cuisine' for convenience's sake. well, nothing's changed- food is still mediocore and service ranks top from the bottom. the fact that i didn't even bother with the camera says it all huh?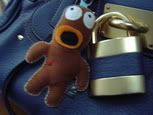 and this is what happens when intelligible behaviour evanesces into the shady halls of a shopping mall.
i get myself an inconceivable-looking key chain. yeah a very "
what were you thinking
" moment.. but he's
A DOOR RA BLE
.
called the 'coco man,' it was love at first fright for this crazy-looking plush toy and i.. haha..
of course, kogepan still olds a special place in my heart.. i think coco man will be my other half when i begin my euro- foray.
dooodolls galore