the brunchy bunch.
the activity of brunch should be celebrated, cherished and honoured. more dineries should pay more attention to those who awake too late for breakfast, too early for lunch. and boy are we lucky that cafe rosso (at holland village) is one such place.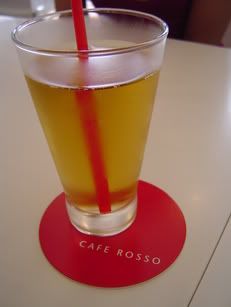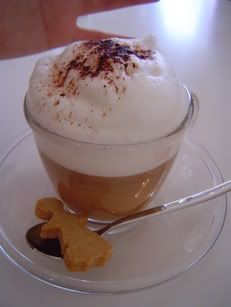 hidden within the depths of lorong liput, cafe rosso is a western-japanese cafe, which has the makings of a fine eatery. choo, nicole and i shared the scrambled eggs on toast set, a sausage mix and hotcakes with bananas. the eggs/ toast set came with a juice of your choice and coffee or tea.. somehow the presence of two drinks serves as a reminder that the portions are big enough for two so unless you have some weird pregnancy-related craving for scrambled eggs, my advice to you is to s-h-a-r-e.
the piling scrambled eggs sat neatly on on two slices of white toast, with a few strips of bacons for company. more of a fried-rather-than-scrambled-eggs person, i only took a bite out of the eggs and it sure was rich and luxurious.. by the way, mr butter and miss milk both send their compliments. but if you are like choo and nicole who both consider carbonara lip-smackin good.. this scrambled eggs toast is made for you.
for a less severe but just as delightful option, i had the hotcakes. to be honest, this was my hidden agenda.. initially i pretended to let the girls suggest a place but after two seconds of er(s) and hmmm(s), i was like "i heard cafe rosso..." symmetrical round flaps of hotcakes drizzled with honey and sliced bananas redefined my idea of religion. though i am agnostic, i believe this is what heaven must taste like.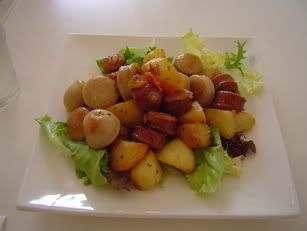 the sausage mix is from the finger food section and it consisted of veal and pork sausage cubes and potatoes.. a tad spicy but definitely invigorating, this is great pick-me-up food..
one thing about cafe rosso that i really appreciated was the precision of taste and style infused within each dish. the little things that made the difference in creating an overall pleasant dining experience.
next time round, i will probably be back for the pastas!
if you can read japanese
the three of us then hastily made way for movie at cineleisure where we caught elizabewth bennet and mr darcy in action in pride and prejudice.. and zhu, you should be proud of me! i picked up the original book last night... turns out i had it at home all this while.. pretty good stuff.. haha..