mushiatsui desu ne.
which means "humid, isn't it?" in japanese
though Family could be considered hard-core sushi tei fans, in my opinion another conveyor belt outlet- ichiban boshi is worth a mention too.
unlike sushi tei which treads on familar grounds, ichiban boshi works manga creativity. with a sushi menu that spells uniqueness, customers are likely to be amused by the unique sushi items that spin on the belt and yes, japanese food has never looked this unhealthy. haha.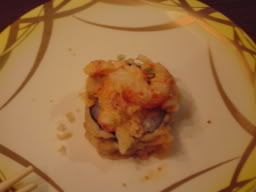 whenever i visit ichiban, i always have 'deep impact'- tempura flakes wrapped in sweet rice, slightly coated in octopus and scallop savoury bits. as you can tell, the appeal lies with its contrasting sweetness and crisp subtle filling. right: lobster salad sushi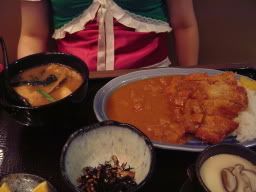 yang and i shared the japanese katsu curry set. a definate value-for-money choice, i was thoroughly impressed by the refreshing crispy thin batter and tender juicy insides. in fact, i think its the best katsu i have ever tried.
gaw-, i almost feel like i am sinning against sushi tei.
generous chunks of salmon head. the winning choice- note that the curry covers only half of the katsu, thus mantaining its appeal for those who like it CRISP.