Judging a cafe by its cover, Ah Teng's bakery at Raffles hotel resembles one of those awfully prententious pseudo-nostalgic cafes. Although the pastries were not exactly mindblowingly great and nothing fantastic. but anyway i decided to feature them as my company happens to use them for all our morning seminar refreshments.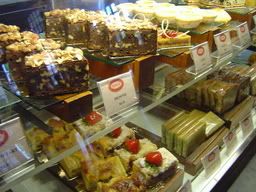 A glimspe of the window display.

L: Fan shaped croissant stuffed with cheese and raisin.
R: Assortment of pastries.


L: nutty chocolate croissant.
R: butter croissant.

L: blueberry croissant.
R: chocolate croissant- torn up.
Overall, the pastries were decent. Most of the time, the fillings were overwhelmed by the stale pastry casing and the pastry lacked the fluffy feathery texture, which was characteristic of sensational pastries. For a hotel which wears the badge of quality assurance proudly above their breast pocket, this cafe and its offerings just did not live up to expectations.