moshi tei.
-it would be very much unjustified of me to leave out
sushi tei
from my blog, considering that's where my family spends most of our saturday nights. it is quite hilarious as all we do is call up sushi tei and ask for table for five and our favourite waitress (wei wei) would laugh and answer, "mr tan, next to the conveyor belt right?"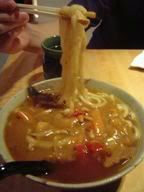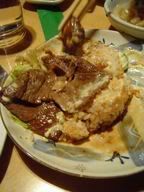 (l-r): my char shu ramen in varying levels of injestion, dad's katsudon, jimmy's curry udon, mum's steak sushi before and after dad picked at it and a very satisfied looking dinner table.
editor's note: in a flurry to satisfy some very-hungry tummies, fang's nabeyaki udon and an assortment of sushi failed to make it here