creped out.
-as my obesssion with food blogs continues
lunch with ade's this afternoon took us to raffles city's 'out of a pan'
where we savoured
a beef and bell pepper wholewheat crepe
and indulged in royal hazelnut waffle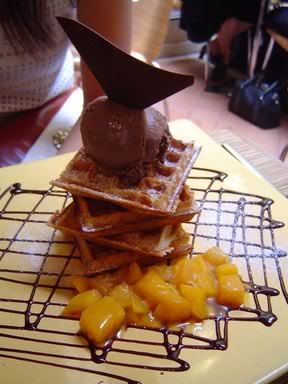 see the pretty waffles stacked up beside a dish of mango salad, topped off with a chocolate-hazelnut ice-cream!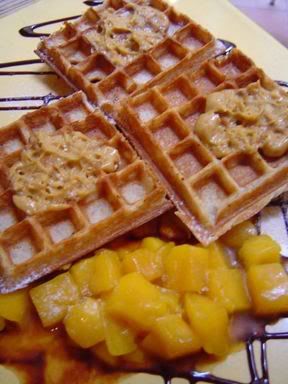 the waffles dismantled to reveal a layer of peanut-butter caramel-like substance. yum-my!
e
mail reply to charl!


babebabebabe.. i so totally understand what you are going through! when i watch my sister and jimmy, i am like, "is this the original umbrella-toting ice queen???"

it almost seems unreal that she could feel so much for anything that did not have a designer tag on it (that's my take on it).. ok i am being mean here but COME BACK SOON.. i NEED our slumber parties.. oh pretty please!