I don't know why KFC changed their iconic tagline from "finger lickin' good" to a dreadfully generic "sogood". I can imagine the arduous research and thought process, test survey and focus group analysis that went into creating that new tagline.
Like fried chicken, pizza tastes even better when you use your hands. We celebrated Mum's birthday dinner at Pizzeria Mozza. I can never remember when Mother's Day is till gift shops set up dedicated areas for Mother's Day cards and cuddly toys, but we always celebrate Mum's birthday.
We munched on crispy bread with cheese and herbs while deciding on what to have. These addictive nibbles aren't helpful for those who can't multi-task. Gulp.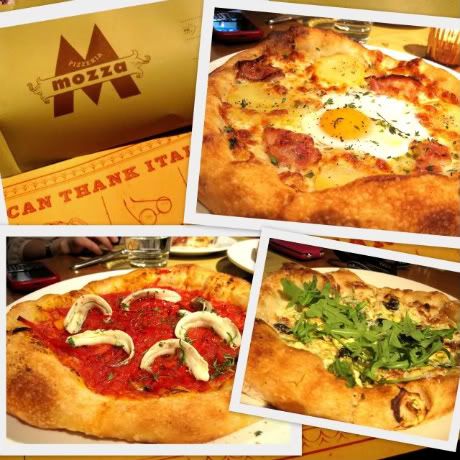 We shared 3 pizzas that I hoped would have been more enlightening. The best pizza was easily the egg, bacon, Yukon gold potato and Bermuda onions; the white anchovy, tomato and fresh red chiles was ok- interesting; while the Stracchino with artichokes, lemon and olives was just sour and plain odd.
Although I missed the usual salami-next-door pizza, I love love love the puffed up rims. To me, thin pizzas and cushion collars are marks of authenticity. Some might find them too much but this is pizza and not flat bread with grilled cheese or a skinny cracker pretending to be comfort food.
Although the pizzas might stuff you to the gills, you really really shouldn't miss out on the starters. I thought these were the quiet stars of the evening.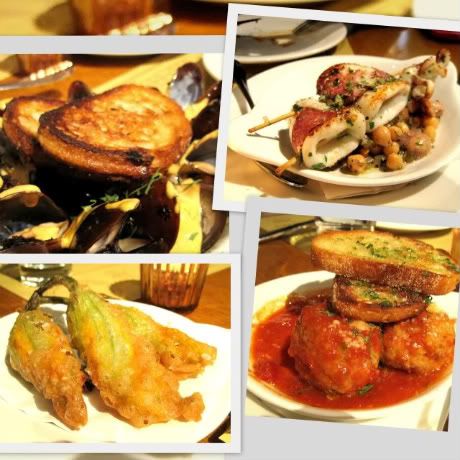 The fried squash blossoms with ricotta are
grease bombs
the only flowers I want to receive on Valentine's Day. The meatballs and mussels were superb and the buttered toasts were such dunk teasers. The calamari and chickpeas were blessed with a smoky aroma and chewy bite.
We got a strawberry tart for mum but couldn't have it then due to Mozza's house rules. The desserts were alright – I wouldn't go out of my way to have desserts at Mozza but it was good enough for us to end our meal with.
The banana gelato pie was one hot mess with hot fudge and salted nuts but there was something disconcerting about the 'banana' flavouring. The espresso granita was shoulder-shruggingly bitter and the butterscotch budino (pudding) was bit of a one-note sweet - I guess a solution for a sweet ending would be to exchange spoonfuls between the granite and budino. And if you would like to
try your hand at the pud'
...
All in all, it was a wonderful birthday meal that reminded us nitwits to be a little more appreciative of Mum and tone down the I-already-know-its.
Happy birthday, Mum!